DPJ's Wire series delivers news and information straight from the source without translation.
In a ceremony Sept. 14, the 25-unit collection of urban dwellings in Phoenix called artHAUS won a 2017 Builder's Choice & Custom Home Design Grand Award, recognizing outstanding and innovative residential design across the United States.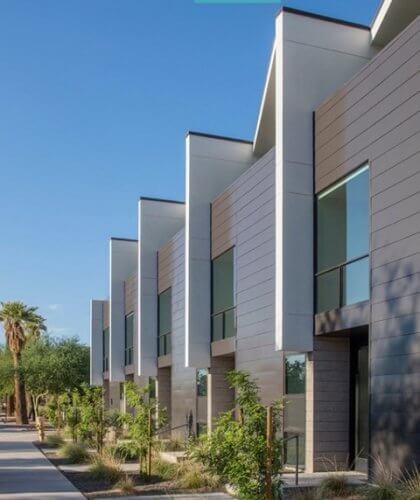 Jason Boyer, architect and principal with Phoenix-based Studio Ma, designed and developed the housing community on a site within walking distance of popular attractions like the Phoenix Art Museum, Hance Park, and Arizona State University's downtown campus.
The Builder's Choice jury panel selected artHAUS for the national Grand Award in a multifamily and mixed-use category based on the design's simple, bold forms and its configuration of townhomes, lofts and flats ranging from 560 to 1900 square feet. The homes, close to 70% sold already, are organized around interconnected, semi-private resident courtyards.
artHAUS is highly sustainable and energy-efficient, with all units meeting strict criteria for Energy Star and LEED for Homes certification. The building features a rooftop solar array that offsets 100% of the HOA power demand, and electric vehicle charging stations are available to residents in an enclosed parking garage.
"We're grateful to the jurors for this honor, and to the awards program organizers at Builder magazine and HanleyWood," says Boyer. "With artHAUS, we hope to raise the bar for contemporary residential design. Our focus is always on making Phoenix a better place to live, but the national recognition for artHAUS is very welcome. We're really proud of it."
All photos courtesy of artHAUS.
---