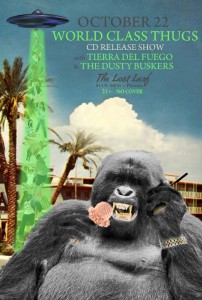 This may be a community festival weekend, but live music shows are still taking the stage – or center stage, depending on your point of view.
Crescent Serves Hot Salsa
Tucson's indie salsa mambo band Sergio Mendoza y la Orkestra is playing at the Crescent Ballroom tonight for $10. If you haven't been able to check out Downtown's newest venue, this is a great choice.
Although the inside is dark, the venue gives off a relaxed, at-home feeling. The audience can get close to the stage, with a not-so-in-your-face bar and wooden bleacher seats against the walls. It's the perfect fit to Downtown Phoenix's music scene.
So stop by tonight, show off your salsa skills or dance like no one's watching to this talented Tucson group.
Food Truck (Music) Fest
Our mouths are watering just picturing all the food that will be at the Phoenix Food Truck Festival on Saturday, BUT don't forget there will be local talent of a musical kind there. Chow down on food from 30 different food trucks while listening to the sounds of Monophonic Hillside, Daryl Scariot, Pick and Holler, leddownright and Dry River Yacht Club. Tickets ($30 today/$35 at the door) include the food tastings and this mini music festival. It's a win, win.
Thugs at the 'Leaf
After the festival if you're still craving a wine or beer to wash down the truck food, head to th nearby Lost Leaf for a drink and a late night show.
The World Class Thugs will be there, celebrating their CD release. From the name (which might be the best name ever) you may think they'll be hip hop or rap, but their quirky sound is filled with horns, accordion and a washboard.
Tickets run for $0…though the beer is  priced otherwise.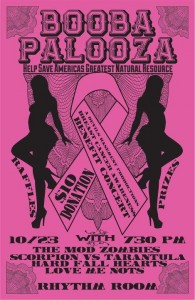 Boobapalooza…Enough Said
If that won't do it for you, grab some good karma at the Rhythm Room on Sunday.
To honor breast cancer awareness month, Boobapalozza will have five bands on stage playing for a great cause.
Locals The Love Me Nots, whose lead singer Nicole Laurenne is a breast cancer survivor, are headlining the show along with Scorpion vs. Taratula, Mod Zombies, Sunset Strip and San Diego band Hard Fall Hearts.
Tickets are a $10 donation.
It's a weekend jammed packed with music, festivals, food and an all-around excellent time.
---