As DPJ readers know, the Crescent Ballroom opened their doors for the first time this week.
For First Friday, they have two free shows in the lounge and then The Album Leaf and Sister Crayon play in the ballroom.
Leon Santiago plays at 4:30 p.m. to the early crowd or for people who want to check out the venue before The Album Leaf show.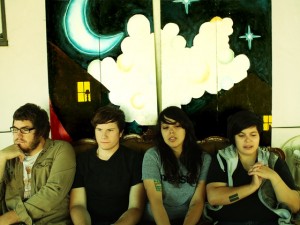 For the past couple weeks, Sister Crayon has been touring with The Album Leaf for their first full US tour. DPJ spoke with their lead singer Terra Lopez about the about the tour and how the group came together.
"The show in New York was incredible," Lopez said. "People came specifically to see our set."
Before this tour, the majority of the quartet had only seen the West Coast. Terra Lopez, Dani Fernadez, Nicholas Suhr and Jeffrey LaTour haven't been a full band for very long but Lopez started the project in 2007 by herself.
"When I first started, I was in a band at the same time," Lopez said. "I wanted to make music that was honest."
She decided to start off with just her, a guitar, looping pedal and backing tracks. "I always knew the sound needed to be bigger," Lopez said. Thus, Fernadez stepped into Sister Crayon. She added a small dab of hip hop with Lopez's ghost-like vocals and songs.
"I always wanted a more intense sound…I had a vision in my head but I was never able to do that," Lopez said. Shortly afterward, they added LaTour and incorporated Suhr for the live shows.
The band released a five-song EP entitled, "Enter into Holy (or)ders," which Lopez gave to Manimal Records and by November 2009, they were signed.
Earlier this year the band released their debut album "Bellow,"  ten songs that take the listener on a wave of quiet synths and powerful vocals. The trip hop beats add a touch of mild drums and bass creating an unexpected dance element to the album.
"The album from start to finish is a band in those three different phases," Lopez explained of songs written when she was solo, with Fernadez and then as a full band.
For a small band from Sacramento, they've released a split with Warpaint, recorded for a David Bowie tribute album, played at the ever-so-crowded South By Southwest and opened for bands such as Tune-Yards and Doomtree's Dessa and Sims.
"It's always fun to play to an audience that's more up in your face and dancing," Lopez said of performing with Doomtree's main lady, Dessa. But with The Album Leaf, Lopez said she loves how more attentive the crowds are with their music. "We've been collaborating on stage and Album Leaf has been coming up and playing with us and vice versa," Lopez said.
Although the Phoenix stop is the second to last, the band is going to stay in 24/7 mode. "We have two days off and then go to San Francisco and then we're in the studio next week," Lopez said. Her hope is to by next year be supporting the second album on tour. "[I'd like to] just be doing this full time and be creative musicians full time," Lopez said.
Sister Crayon promises a "much bigger and dynamic" show than the album recordings.
So why don't you give them a chance?
If you go
Where: Crescent Ballroom
Date: Friday, October 7 beginning at 4:30 p.m.
Time: Lounge opens at 4:00 p.m. Doors for main stage open at 7:30 p.m., show at 8:30 p.m.
Tickets: $15 and the show is 21 and over
Note: If you're still craving more music after the show, DJ Seduce is turning up the speakers to 11 after The Album Leaf's performance.
---