With a new month comes a new live music venue to Downtown Phoenix.
On Monday, the Crescent Ballroom will open its doors to a public that has been abuzz since first hearing about it in July.
The 7,000-square-foot venue is conveniently located one block away from the Van Buren light rail stop. Great for people who don't want to drive, and for students getting out of class who want to walk to get their live music fix in Downtown.
Charlie Levy of Stateside Presents is the man behind the project and has long wanted to open a venue in the Valley.
"I was just waiting for the right situation and the right building and the right time for it to come together," Levy said. "It seemed to be the right time."
The building has exposed brick with high wooded vaulted ceilings. Patrons will have the option of standing room or seating, along with a front lounge area.
"The building was built in 1917 so we really tried to peel back as much as we could to the original building and really have an old Phoenix warehouse feel to it," Levy said.
Levy added a little twist that differentiates it from other Valley venues. None other than Chris Bianco of Pizzeria Bianco and Doug Robson of Gallo Blanco will helm Cocina 10, the restaurant portion of the Crescent Ballroom.
Talk about a one-upper.
"I'm more than happy that all that came together and that all these talented people came together to help me run it," Levy said.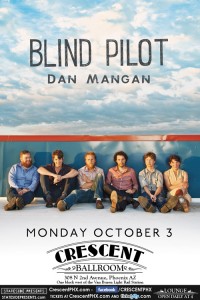 And we haven't even talked about the music yet.
Levy's plan is to have a show at Crescent Ballroom every day whether it is free in the lounge or ticketed. In the next couple months, Crescent Ballroom will have M83, St. Vincent, Phantogram, Album Leaf, and The Naked And Famous, along with local talents Courtney Marie Andrews, Black Carl and Sergio Mendoza y la Orkestra.
"Sergio Mendoza y la Orkestra is the best Arizona band and always a blast to see them play," Levy said. "Really there's so many [shows] that it's really is hard to name what show I'm most excited for."
"I've very curious as to what people think of it," Levy said.
We're guessing Phoenicians will love having a new place to hang out, eat some grub and catch a once-in-a-lifetime show.
Let the games begin.
If you go
Who: Raul Yanez in the lounge; Blind Pilot playing in the main room, with Dan Mangan opening
What: Live Music
When: Monday, October 3rd Lounge starts at 4:30pm, Doors open at 7:00pm for the main room
Where: 308 N. 2nd Avenue, Phoenix, AZ, 85282.
Cost: Free for the lounge show, $13 for the Main Room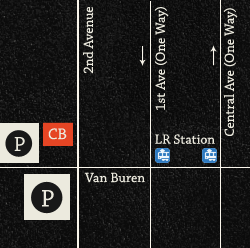 ---