December brings many gifts to music lovers, and it starts with the Iron & Wine show at Crescent Ballroom.
Samuel Beam's soothing, let's-sit-next-to-the-fire voice is remarkable in every album. He recently flipped a switch with his music on "Kiss Each Other Clean" and took a risk in adding an electronic pop sound. The leap is different but still brings the magical feeling an Iron & Wine song usually gives off.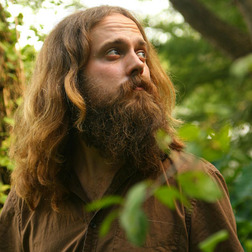 For all the lucky individuals going to this small intimate (plus sold out) show, get ready to be hypnotized by Beam's voice (and beard). For everyone else, here's a playlist to reminiscence and imagine what the show would be like.
1. "Cinder and Smoke" (Our Endless Numbered Days, 2004)
One of Beam's slower hits but a great one to keep. The man can do wonders with a simple acoustic guitar. Even when the song is over, listeners will continue humming the closing humms and nuhs.
2.  "Each Coming Night" (Our Endless Numbered Days, 2004)
Beam has an amazing way with words. It comes as no shock that in just four paragraphs, he can say everything that most people have trouble with putting into words.
3.  "Boy with a Coin" (The Shepherd's Dog, 2007)
If this song doesn't make you want to clap along, we have no idea what would. It repetitive clapping and subtle guitar is infectious and fun to listen to.
4.  "The Rooster Moans" (The Creek Drank the Candle, 2002)
From his first album, this raw, southern banjo song shows an early stage of Beam that most people don't know about. It makes for a great toe-tapping song.
5. "Teeth in the Grass" (Our Endless Numbered Days, 2004)
The twangy guitar breakdowns make this song a must.
6. "Rabbits Will Run" (Kiss Each Other Clean, 2011)
This song will astonish most Iron & Wine listeners with its jungle-type beats and hypnotic layering of different rhythms and noises but Beam's vocals perfect the tune with eerie echoes and hovering last words.
7.  "Me and Lazarus" (Kiss Each Other Clean, 2011)
Within the first 15 seconds of this song, you should already be hooked in with the jazzy, funk bass line which is something different in Iron & Wine's songs. By the middle of the song, trumpet pops in for a nice surprise leaving you to wonder what else is coming along the way.
8. "Sodom, South Georgia" (Our Endless Numbered Days, 2004)
The perfect song to add to a long roadtrip with winding roads surrounding nothing but good ol' nature. Beam's voice is haunting and slightly creepy singing about dead white boys.
9.  "History of Lovers" (In the Reins, 2005)
A quirky song from Iron & Wine/ Calexico's EP with horns, a slight pop sound and a hint of banging on piano keys.
10. "House by the Sea" (The Sheperd's Dog, 2007)
Even though its over a minute until vocals come in, the opening music gives a taste of fairytale-like keys and a Spanish style guitar that gives a little funk to the album.
---