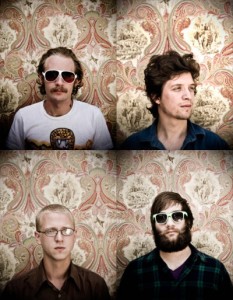 Have a dope costume but one night of dressing up doesn't cut it? Pop on over to the Crescent Ballroom tonight for a pre-Halloween celebration with Deer Tick in your ghoulish attire.
The Providence quintet band has played since 2004 but it wasn't until the past year that they slowly made a name for themselves on the scene. It began as a solo project of John McCauley's, lead singer and founding member. After hiking in Indiana with a friend, McCauley came home to discover a deer tick in his scalp, which is how the name was born.
With live shows, he'd either play by himself or have several people play drums and keyboards. It wasn't until recently that Deer Tick became a band with solid members.
Ian O'Neil, Chris Ryan, Rob Crowell and Dennis Ryan joined McCauley onstage and in studio for the newest record, "Divine Providence."
With the addition of more members, the band gained a raw, edgy sound that differed from their known indie, folk feel.
"Divine Providence" shows Deer Tick at a whole new level that may surprise old listeners. It still has a nice kick to it, with McCauley's scratchy voice thrown on top of electric 70s-aura guitar.
The band is known for their onstage antics as well.
"If you don't want to get covered in beer or confetti at one of our shows, I'd suggest not standing up in the front," it states on their website. Let's just say we didn't warn you. Folks with face make-up might want to take a step back from the edge of the stage.
Win Tickets and Get on "the List"
With the help of Partisan Records, DPJ is giving away a pair of tickets to Deer Tick's show!
Go to DPJ's Facebook page and Like the Deer Tick post. A winner will be randomly chosen at 3 p.m. today.
For all the other fans, tickets are $15.
---