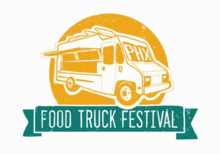 You've seen them at the Phoenix Public Market and many events around the Valley, and Saturday they'll be taking over Roosevelt Row.
More than 30 different local food trucks and carts will be participating in the inaugural Phoenix Food Truck Festival, hosted by The Phoenix Street Food Coalition and Roosevelt Row Community Development Corporation.
Food vendors will give small samples to attendees which will be included in their ticket fee, and the Four Peaks Beer Truck and Dos Cabezas Winery will provide beverages at the cash bar.
The festival will also include live music from four local bands, and will be within walking distance of Roosevelt Row galleries and shops.
The event aims to raise money for the Phoenix Street Food Coalition, and Roosevelt Row and its A.R.T.S. program, which finds temporary productive uses for vacant lots in the Roosevelt Row district. Other A.R.T.S. initiatives include community gardens, public art projects, cultural fairs, outdoor film space and concerts.
Cindy Dach of the Roosevelt Row Community Development Corporation says she and the other event organizers realized the increasing popularity of food truck festivals across the country and decided it would be a great project for the A.R.T.S. program, which began in April.
She believes food trucks have become popular because they offer a different experience than traditional restaurants.
"People love gourmet food but people also love mobility and community gathering," Dach says. "It's a new way of experiencing community and food, and we're on the upward rise of it."
But Dach hopes the festival will do more than just raise money.
"The other goal is to bring people downtown … and to think about coming to Roosevelt Row on days other than First Fridays," she says. "It's a vibrant area seven days a week."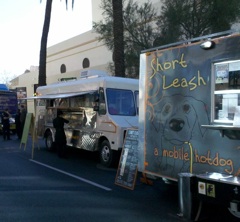 Brad Moore, president of the Phoenix Street Food Coalition and owner of the Short Leash Hot Dogs food truck, says mobile eateries must be part of the coalition to participate.
"We have requirements to become a member such as 30 percent of your ingredient must be local, you may not be a national franchise and your food must be artisan in nature," he says.
Moore says the event is also a way of celebrating the growth of the one-year-old coalition and its involvement with Roosevelt Row.
Dach anticipates it will be an annual event but says that it may be too large for the same location next year.
Clea Senneville, owner of the beet strEAT food truck, says she is excited to showcase how the local street food culture has developed and how a unique group of passionate and positive independent small business owners has come together to support each other.
"I am looking forward to the event for the opportunity it provides our little business to share what we do, both tangibly in the form of our samples, and by way of conversation with visitors, to whom we've not yet been exposed," she says.
"Plus, it's sure to be a good time," Senneville adds.
If you go
Where: A.R.T.S. Project #1 (408 E. Roosevelt St.)
Date: Saturday, October 22, 2011
Time: 4 p.m. to 11 p.m.
Tickets: Can be purchased online for $30 or at the door for $35. Children 12 and under are free with a paid adult ticket.
Vendors: A list of participating food trucks and carts can be viewed here.
---