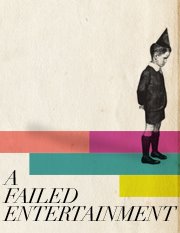 A Failed Entertainment
A "four-act" exhibit by Phoenix artists Mark Dudlik, Jon Garza, Sebastien Millon and Safwat Saleem.
The exhibit in four acts, is a showcase of pandas, scrap wood, bunnies and prints that "capture the feeling of dread."
How can you not love it?
What: A Failed Entertainment, a part of the Phoenix Design Week
When: Friday, Oct. 7 from 6 p.m. to 9 p.m. Weekday viewing from 9 a.m. to 5 p.m. (or by special appointment) until Oct. 18.
Where: monOrchid gallery, 214 E Roosevelt St.
PURL JAM: Urban Visual Research at ASU
An exhibition exploring innovative urban research
Who: 
The Phoenix Urban Research Lab in The Design School at the ASU Herberger Institute for Design and the Arts.
What; 
The Phoenix Urban Research Lab announces an exhibition opening titled, PURL JAM: Urban Visual Research at ASU. This exhibition brings together emerging scholars from a variety of schools and disciplines at ASU, to showcase innovative urban research that explores all manner of spatial, historical and theoretical inquiry using visual methodologies. Unlike traditional academic venues, this research "jam" creates an informal visual encounter between disparate urban PhD research projects to generate new and unexpected areas of inquiry. PURL JAM highlights the shared intellectual interest in urbanism at ASU, bringing together different perspectives on the nature, meaning and dynamics of urban places.
The Phoenix Urban Research Lab's interest is the design of human settlement and its relation to sustainability, social justice and cultural understanding.
Where
: Phoenix Urban Research Lab
 234 N. Central Ave. 8th Floor, Phoenix, AZ 85003
When; 
6- 8 p.m., Oct. 7, 2011
Cost: 
Free. RSVP required. RSVP to Jennifer.L.Kitson@asu.edu
---