DPJ magazine's June/July issue is hot off the presses and ready to celebrate a HOT summer. Pick up a copy at one of 300+ locations in and around the Greater Downtown area. Just a few of the issue highlights: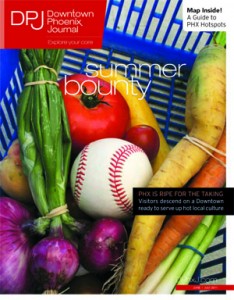 Welcome | Meet Guest Editor David Leibowitz and read about his love of Downtown Phoenix
All-Star BUZZ | Check out the rundown of MLB All-Star Week Festivities, taking place right here in July
All-Star Regular | Read Leibowitz's interview with Arizona D-Backs' Luis Gonzalez and get his take on Downtown
Paving the Way | J. Seth Anderson's gets the scoop on a cool new parking lot innovation
Core Values | Tazmine Loomans gives an account of her interesting conversations with the mayoral candidates
Eats & Drinks | Justin Lee explores the core and more, helping identify the ideal culinary itinerary for locals and visitors alike
District Beat | Courtney McCune takes the pulse of the city in a new section that celebrates the haps that make Downtown great
Centerfold Map | Peruse a four-page, pull-out map and visit some new places on your next First Friday adventure (or any day of the month!)
Stay up to date on all of the latest Downtown buzz and events, including Phoenix Convention Center's record summer, the opening of the new Torch Theatre…and more!
If you haven't picked up an issue, click below for an online view!
---