Some bands only come to the Valley once or twice every couple of years but for others we are lucky enough to get them twice in one year.
Colour Revolt is thankfully one of those bands. After opening for Taking Back Sunday and Thursday a couple months ago, they're coming back to headline their our tour, playing the Rhythm Room in Downtown Phoenix.
Colour Revolt is an indie experimental band from Oxford, Mississippi. Sean Kirkpatrick and Jesse Coppenbarger started playing in high school and carried on until college, so naturally after playing so many years the road becomes more of your home than anything else.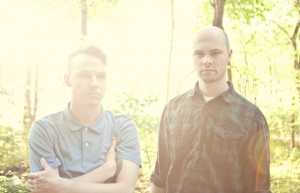 DPJ got a chance to talk to Sean Kirkpatrick from Colour Revolt about touring, the newest album and Ducktales.
"Whenever we get our break from the road, it's like our little piece of gold," Kirkpatrick said. "We make the best of it."
They've toured with the likes of Explosions in the Sky, Brand New, Black Lips and Okkervil River.
"We did a two week long tour with The Breeders," Kirkpatrick said. "We loved every part of that tour."
For every couple of weeks the band is on tour, they take that long of a break and then jump back on the road again. Not only does a band get closer but they experience the most bizarre scenarios. One story starts with a Belgium waffle truck.
They had pulled up next to the truck at a red light in San Francisco telling the driver, "Fine waffles, those Belgiums." The driver took off, leaving the band to think they made him mad. Then the driver stopped at the next light in front of the band's van.
"We watched him coming out with a bag in his hand," Kirkpatrick recalls. "We thought he was going to tear us apart." After slowly rolling down the window, the man handed them a large bag full of waffles. "We ate every single one of those Belgium waffles," Kirkpatrick said. "They were pre-buttered and pre-syruped."
Only on tour would something like that happen.
With Colour Revolt's latest record, they approached songwriting a new way and developed a compelling album full of diverse rhythms, vocal harmonies and lyrics that leave you to wonder if random things always happen to this band.
"Each song has a different personality," Kirkpatrick said.
For each album, the recording process differed than the one before. Their self-titled EP was done in the basement of their friend's house and their first full-length Plunder, Beg and Curse was done in Oxford within two weeks. The Cradle was done in seven days in Ashville, North Carolina.
"I'm happy with the way it turned out but if we had more time in the studio who knows what would have happened," Kirkpatrick said.
The ten-song album is more of an open book about the band then the other ones. The song, "8 years" gives vivid and colorful images of various tour days and what the past couple years have brought the band.
One lyric in particular stands out in the beginning of the song. Kirkpatrick says about three quarters of it is true, about the man being a professor, climbing a tree screaming obscenities and having a gun. But shooting something off is not.
"We pulled a Jerry Bruckheimer move," Kirkpatrick said. "We wanted the shock and awe."
Three of the five members left before The Cradle leaving Kirkpatrick and Coppenbarger stripped down to their core emotions paving the way to an album full of powerful insight on life and every day challenges.
"The choices you make in life are the ones you want," Kirkpatrick said. "In our situation, we've made decisions that we're compelled to do."
The "what ifs," Kirkpatrick said, are just part of life. Of course, he thinks of what he'd be if he were somewhere throwing money in the air or swimming in Spanish gold Ducktales style. Which come on, who doesn't think of that "What if" every now and then?
Colour Revolt promises a good show and hopefully getting people to rock out.
"We'll play our hearts out," Kirkpatrick said. "Our fingers are going to be bleeding."
If you go
Who: Color Revolt
What: Live music
When: Monday, September 26. Show starts at 7:30
Where: The Rhythm Room
Cost: Tickets are $10 in advance or $12 at the door
---