(From the Wire includes press releases received from reliable sources that help tell the story of the many happenings in Greater Downtown Phoenix. Yep, they are ripped from our inbox.)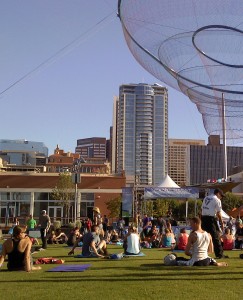 The Phoenix Parks and Recreation Department is bringing live music to the downtown lunch scene with the Civic Space Lunchtime Concert Series at Civic Space Park, 424 N. Central Ave. The concerts are set to kick off on Wednesday, Feb. 8 and will take place every Wednesday from 11:45 a.m. to 1 p.m. on the park's outside amphitheater stage through the second week of May. The concerts are free to the public and will feature outstanding performing and visual arts.
Well-known Arizona Blues artist Hans Olson will headline the opening concert Feb. 8. Olson is recognized as one of the best "harp-in-a-rack" players in the world. He has recorded over 70 of his original songs on independent record releases and has been an award winning performing musician since 1972. Future performances will include: Gustavo Angeles/Latin Pop; Phoenix College Big Band; Mike Torres/Tribute to Carlos Santana; The Irish Culture Center Performance Academy and many more.
Concertgoers are encouraged to take Light Rail to the Park, which has stops right at the park's entrances. Metered or pay parking is available on street or in nearby lots or garages.
UPDATED CALL TO ARTISTS:  The City of Phoenix Parks and Recreation Department is currently looking for performing artists as well as visual artists to display their works:
•  The City provides all sound, stage and marketing of the event, display easels and sometimes booths for enhanced presentations  (depending on participation)
•  Funds are currently limited (can afford solo artists, but not limited to singles). We hope to raise sponsorship dollars in the very near future for an awesome summer concert series and start the fall  with a full five day a week schedule
•  All artists would have a tremendous amount of exposure, be able to record their performance and we may even be able to video some performances and show on our Phoenix 11 TV station
Any performing  or visual artists who would like to be featured in this concert series, contact Carmela Ramirez, Arts and Culture/Downtown Division at 602-262-7424; carmela.ramirez@phoenix.gov.
---