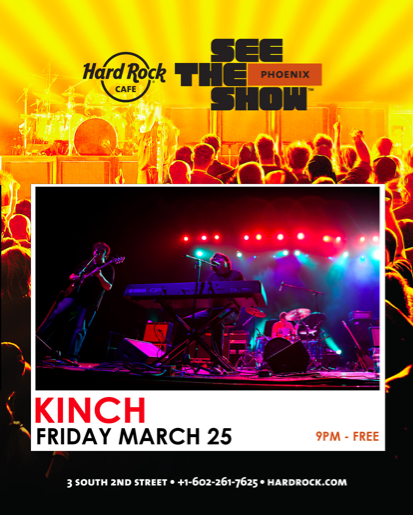 Downtown Phoenix is the place to be these next couple days. Shows are popping up all over the place, and it's getting harder to choose which ones to attend. Tonight and tomorrow, you have some choices to make.
Yes, we all know Lady Gaga is gathering her monsters at the US Airways Center this weekend, but not everyone can afford the price tag of $50 to nearly $200.
Tonight at The Rhythm Room, Miniature Tigers come back to their home turf to play with record label friends Gospel Claws, Los Angeles-based Pepper Rabbit, Alvin Band and ROAR.
The last time Mini Ts came through here and played Rhythm Room, the show sold out. They also sold out Scottsdale's American Junkie when they came to town with The Roots last year, so expect a pretty packed place.
The band has been nonstop touring for the past year, so being welcomed back by Phoenicians might be a nice change of pace. Any tickets left at the door will be $13. The show starts at 8 p.m.
If you're looking for an even more laid back place to grab a drink and listen to some music tonight, then head to The Lost Leaf.
Everyone's favorite 5th Street hangout will host Kongos tonight. This band of four brothers doesn't hold anything back live and leaves the set list at home. As always, shows at The Lost Leaf are FREE and 21+.
Tomorrow, Downtown hosts another amazing local show.
Following the Suns game, Kinch will be at Hard Rock Café waiting for all the decked-out orange-and-purple-colored fans.
Fresh out of South by Southwest, Kinch played three back-to-back shows in Austin and deserved a break afterward, but instead they're busting out the amps and instruments for a free show for their hometown fans. So, sit down and enjoy a much less expensive beer than at the game. The show is FREE and doors are at 9 p.m.
That's a lot of live music to handle in 48 hours, but we have faith in you to be able to at least make it to one. Get out and support your local scene!
The Rhythm Room is located at 1019 E. Indian School Rd. in Midtown — 602.265.4842.

View Larger Map
The Lost Leaf is located at 914 N. 5th St. in Evans Churchill (Roosevelt light rail station) — 602.258.0014.

View Larger Map
Hard Rock Café is located at 3 S. 2nd St. (3rd Street light rail stations) — 602.261.7625.

View Larger Map
---