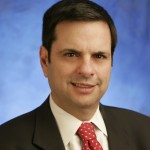 I am back in Phoenix after a quick yet quite busy trip to Washington, DC, earlier this week, where I was asked to participate in a panel focused on public safety by the White House and the Attorney General. The city of Phoenix police department has demonstrated significant success in combating and reducing gang-related crime, and in partnering with other agencies to make our community safe. These programs, in fact, have been so successful that our city is considered a model city for public safety that other cities across the nation seek to emulate.
The panel discussion provided me with the opportunity to showcase the "best practices" of our department, particularly those involving partnering with other agencies that have resulted in executing thousands of warrants, winning thousands of felony indictments and arresting thousands of dangerous and violent people engaging in drug trafficking, gun smuggling, drug smuggling, human smuggling and kidnapping. We have also kept millions of dollars from flowing from the United States to Mexico — and we have kept our focus on the worst of the worst.
Thanks to this opportunity I was also able to demonstrate the importance that Phoenix and our public safety programs continue to receive ARRA funding — we clearly put the money to good use, and have established a track record for making our community and nation safer.
---