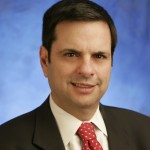 When I first became Mayor, I listed my three priorities — and my priorities for Phoenix — as public safety, education and jobs. Nearly six years later, those remain our priorities. And, it's no accident that I always list public safety first.
That's why last week was particularly gratifying for our community.
On Monday, I was invited by the White House and the Attorney General to come to Washington and talk about the great successes of the Phoenix Police Department. In several important areas, our department is considered a model for the rest of the nation. This time, we were proud to discuss our strategies for fighting gangs and gang-related crime, and for partnering with other agencies to maximize both scarce resources and our desired results.
Fighting gang activity and the related violent crimes is important and expensive.
It's the cost of intelligence; the cost of equipment; the cost of hiring new officers; the cost of overtime; the cost of undercover operations that continue for months and, sometimes, years; and it's the cost of surveillance planes.
Fighting these dangerous, well-armed criminals is not like rounding up day laborers or chasing nickel bags. They are expensive and sophisticated operations that require an expensive and sophisticated response.
That's why we have been leaders in forming creative partnerships — and pioneering creative programs to fight these international criminals. And, we've had tremendous successes and significant results.
Partnering with DEA, the Border Patrol, FBI, ATF, the U.S. Attorney, the U.S. Postal Inspectors and state and local agencies, we have disrupted serious criminal activity. We have executed thousands of warrants, won thousands of felony indictments and arrested thousands of dangerous and violent people engaging in drug trafficking, gun smuggling, drug smuggling, human smuggling and kidnapping. We have kept millions of dollars from flowing from the United States to Mexico, and we have kept our focus on "the worst of the worst."
That is how we can be most effective at keeping our community and nation safe — by allocating our scarce resources where they have the greatest impact, and by partnering with others to effectively increase the resources available to us.
After my day in Washington, I flew back to Phoenix and, just two days later, was pleased to participate in the announcement of yet another successful partnership. Together with the FBI Violent Street Gang Task Force, we announced the results of Operation Tri-Dent. Even before this operation, this task force has resulted in more than 300 felony arrests in the past year alone. And, since 1994, has been involved in the arrest and incarceration of more than 900 violent felons and the seizure of cash and tangible assets totaling more than $4.5 million. Last week, those numbers grew with the rounding up of nearly 100 violent gang members. That makes not only Phoenix safer, but also communities from coast to coast — because these criminals don't respect national, state or city boundaries. And, the havoc that is sewn in one place can be felt in many places.
That was on Wednesday. The very next day, the Phoenix Police Department announced its conclusion of the 2009 summer enforcement effort for the Operation Safe Street Task Force. Between June and August, the task force made 2,219 arrests, served 71 search warrants and seized 142 weapons, $100,000 in cash, 27 vehicles and drugs from cocaine to meth to marijuana to heroin. That really did make our streets safer.
That was on Thursday. On Friday, I stood to thank the Phoenix Police Department, the county attorney's office, the Department of Public Safety and neighborhood leaders from the Cactus Park area.
Operation Eradication shows our continued effort in combating criminal activity in a specifically defined geographical area of the Cactus Park Precinct — bounded by 27th Avenue to the east, 35th Avenue to the west, Peoria Avenue to the north, and Northern Avenue to the south.
In short, crime was up 6% in that area while, in the rest of the city, violent and drug crimes were DOWN 10%.
Understanding that illegal drugs share a commonality with the proliferation of violent crime, the Drug Enforcement Bureau was solicited as a resource to assist in the establishment of an undercover operation that would identify violent offenders, career criminals and multi-housing unit owner/operators in support of illegal activity.
The investigation phase was scheduled for 30 days, and resulted in 82 transactions involving 67 identified suspects. All cases were submitted to the Maricopa County Attorney's Office for prosecution.
The success of this operation, again, was due to effective partnering. It's not a new story for Phoenix, but it's a story that is being told to a growing, national and global audience. It's an effective and professional way to keep our community safe.
Thanks to the Phoenix Police Department and those agencies and departments that partner with them, last week was a very bad week for the bad guys.
Which is very good news for everyone else.
---