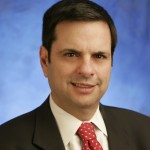 Hard work is paying off — $3.4 million to be exact. The city was just notified, once again, that the Housing Department was awarded a competitive ARRA grant. This award is not just money to those families benefiting from the forthcoming retrofits to the 374 units at the Marcos de Niza city-owned public housing — this grant compliments my 17-point Green Phoenix plan, which aims to make Phoenix one of the most sustainable cities in the nation.
This is a great example of the city's goal in ensuring that everyone has access to sustainable features and education. From low or no volatile organic compound paints to adhesives and green-label-certified floor coverings, the residents of Marcos de Niza will benefit from the green features of their units by saving on energy costs and contributing to reducing their carbon footprint. More importantly, this project will put people to work.
Improvements are scheduled to begin soon. And, we are not done yet — please continue to follow my efforts as I continue my work in ensuring that Phoenix is at the forefront of those in Washington, DC.
As always, I will continue to keep you informed on my progress — until then, remember, shop Phoenix!
---