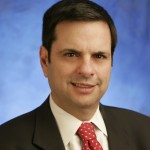 Recently the city of Phoenix celebrated being the first city in the nation to complete its weatherization program for low-income families. Thanks to the $7.2 million in funds that we secured through the American Federal Recovery and Reinvestment Act's Weatherization Program, we plan to weatherize more than 1,200 homes during the next three years.
The first home completed with this money is in District 4, and belongs to Arthur and Rosa Lovato.  They joined us recently, and showcased their newly weatherized home. The program allowed the city to replace duct work, update the AC, install new cellulous insulation and install shade screens, a new gas range and hood and CFL bulbs throughout the home. The best news of all is that they will cut their monthly electricity bill by up to 40%! That will have a truly positive impact on their monthly budget.
I am also happy to report that to date, four positions have been added and there are two to four more to come with the administration of the program. In addition, countless numbers of contractors and construction workers will be employed throughout the program.
I congratulate city staff for being leaders in the weatherization program, as the first city in the country to implement its program. Together, we've been working to secure the stimulus funds from Washington, DC, and use the expertise that our team has developed in sustainability over the past decades to create programs like this one that benefit our neighbors. This means more energy savings for the city of Phoenix, and keeps us on track for making Phoenix the greenest city in the country!
---