DPJ's Wire series delivers news and information straight from the source without translation.
CBRE announced the firm has been selected as the exclusive agent to market and sell Containers on Grand, a sustainable apartment community made of repurposed shipping containers. The downtown Phoenix project was the first shipping container community in the Western U.S. and is the only shipping container community in the country on the market.
Located at Grand and 12th Avenues in the Grand Avenue Arts District, Containers on Grand is comprised of eight, 740-square-foot one-bedroom apartments. Each unit, made of two shipping containers, features a contemporary fully appointed kitchen, spacious living and storage space, and an in-suite washer and dryer.
Brian Smuckler and Jeff Seaman of CBRE's Phoenix Multifamily Investment Properties team, will spearhead the marketing and sales of the asset, which is 100 percent leased.
"The pent-up rental demand for Containers on Grand is significant not only because its alternative and eclectic design elements that make the property intriguing, but also because of its easily walkable position within the bustling Grand Avenue Arts District," said CBRE's Smuckler. "The property benefits from a wealth of art studios and galleries, coffee shops, bars and restaurants, and is along the well-attended First Friday route. It's just minutes from Downtown Phoenix."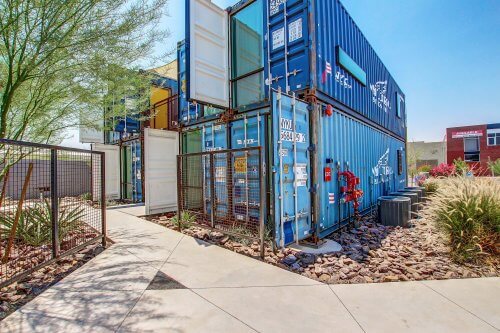 The property was built in 2015 by a local partnership including Scottsdale-based architectural firm StarkJames, LLC (Brian Stark and Wesley James) in partnership with Karl Obergh, president and CEO of Phoenix engineering firm Ritoch-Powell and Associates, and Bloomspot, LLC (Kathleen Santin).
"The Roosevelt Row Arts District and Grand Avenue have been nationally recognized by USA Today as one of the best art districts in America," said Christine Mackay, director of Phoenix Community and Economic Development. "Containers on Grand is the type of fun, funky project that makes this an important part of exciting downtown Phoenix. It's among the reasons more than 275 technology companies now have offices in the area."
"Interest in Containers on Grand has led us to explore why a container project captures the imagination of so many," said James, architect and partner at StarkJames.
"Using up-cycled objects in design and construction is always beneficial," added Stark. "Containers on Grand is authentic adaptive reuse; the original floors, paint and markings were left intact, each with a story to tell."
Obergh continued, "This project laid the foundation for the next development of container projects throughout Phoenix."
The firm was awarded a Grand Award at the American Council of Engineering Companies of Arizona's 2016 Engineering Excellence Awards for its involvement in the project.
Photos courtesy of CBRE. 
---