Wire* — Construction has officially started on the Valley's first micro marketplace built of re-purposed shipping containers. So much more than metal, The Churchill, named for the Evans Churchill neighborhood where it will reside, brings a community-driven mantra and attitude, requiring tenants to complete four volunteer hours monthly and encouraged to create community events.
"You gotta love where you live," said Hartley Rodie, the project co-partner. "It's not all about dollars and cents. This project is about people and community."
Rodie has joined forces with co-founder Kell Duncan and has teamed up with Local Studios to construct the 14,000 square foot, using 19 repurposed shipping containers at 901 N 1st St, Phoenix, AZ 85004.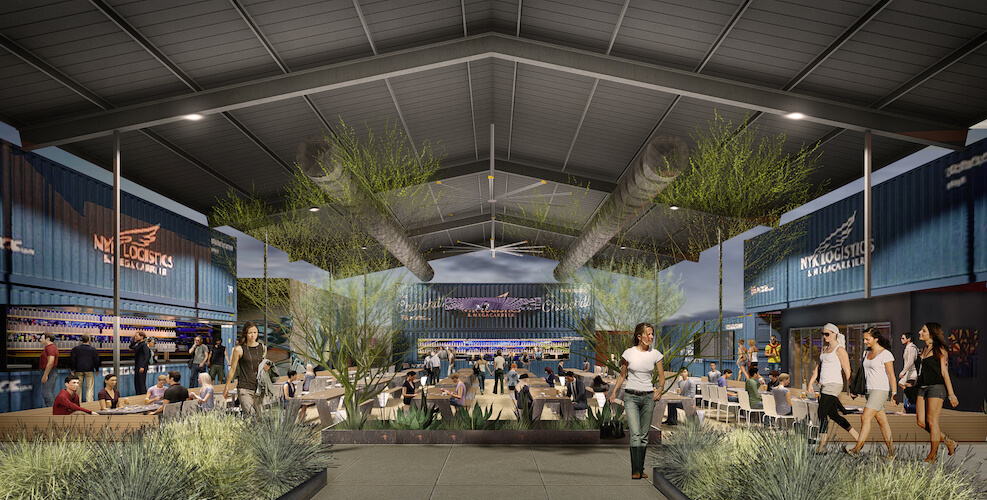 With a large courtyard acting as the heart of the space, The Churchill will pulse with community vibes from the second you walk in. A number of activations will take place within the space throughout the week including health and wellness classes, arts and education activities and more.
The project also has plans to support its neighbors through monthly fundraisers for local non-profits and weekly service outings that will benefit an array of organizations throughout the Valley.
Inside The Churchill, visitors can shop, dine and enjoy a total of 10 locally owned and operated concepts, three of which are revealed below.
• Pobrecito, a new cocktail concept from Barter & Shake, the team behind Counter Intuitive and Undertow.
• The first brick and mortar location of the Freak Brothers Pizza food truck.
• Cosas, a container boutique offering unique gifts made by local artisans from various regions of Mexico.
The remaining signed tenants will be revealed via social media in the coming weeks. The completed project is aiming for a Spring 2018 grand opening date. Sign up for updates and tenant news at TheChurchillPHX.com.
Project Name: The Churchill
Developer: The Churchill LLC
General Contractor: Local Studios
Architect: Archicon and Local Studios
Location: 901 N 1st St, Phoenix, AZ 85004
Size (SF): 14,000 SF
Estimated Start and Completion Dates: Start – November 2017, Complete – Spring 2018
Renderings by Local Studios courtesy of The Churchill.
*DPJ's Wire series delivers news and information straight from trusted sources without translation.
---