In DPJ's Street Style PHX series, Kammie Kobyleski hits the streets in search of the looks that define our city style.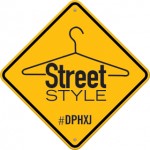 "Women like men who dress well." ~Anonymous (and oh-so-right)
During a recent trip to the Phoenix Art Museum to attend Phoenix Rising: The Valley Collects, rare art (Picasso, Monet, Warhol, etc.) from private collections here in the Valley (it was lovely btw), I spotted this week's Street Style role model. While there were many gorgeous ladies in the room, this particular fella stood out among the desert roses…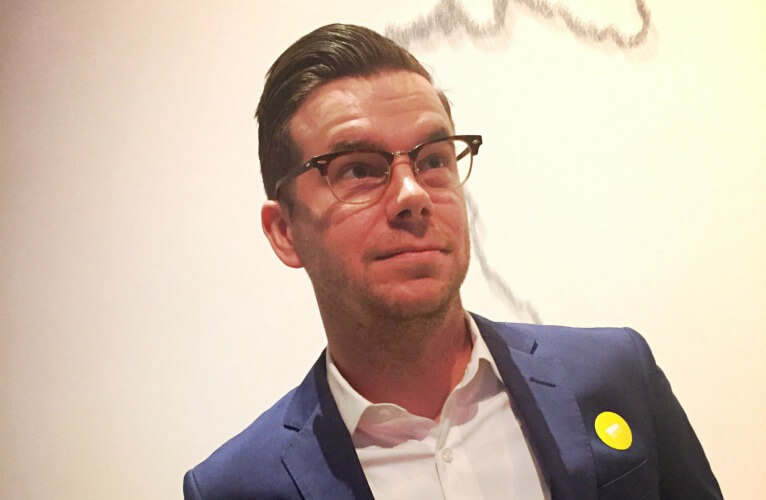 Name: Kevin Layshock
Occupation: freelance designer and illustrator (@kevinlayshock / layshock.co)
What part of PHX do you live? "Right across the I-10 from IKEA" paints a much better picture than Ahwatukee, which usually suggests that I'm way further out of Phoenix than I actually am. 51st and Warner.
Where are you from originally? I was born and partially raised in the San Francisco Bay Area, but have lived in Phoenix most of my life.
If you could raid a one style icons closet who would it be? Why are you drawn to their style? I'd certainly loot from Nick Wooster's. His style is utilitarian and honest, and I don't have to drop a ton of money to match his pseudo-sophisticated look— find a few well-constructed clothes within a decent color palette, add a bit of smart tailoring, and it'll be close. It's moderately low-profile, so there's some longevity. But I'm no expert; I could be way off-base.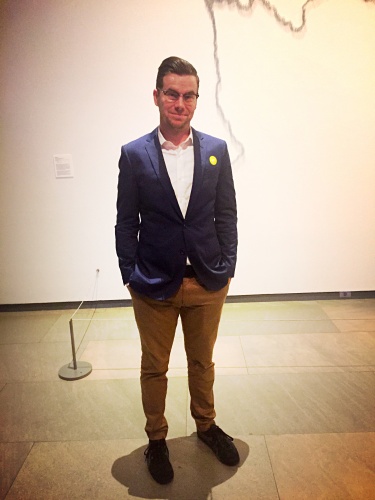 What are your favorite places in PHX to shop? Online? Brands? This is tough. I'm definitely keen to support local makers and boutiques, but there's a ton of clothes around town that are just too expensive (I know the expense of screenprinting AA crew neck tees, and they're absolutely not worth $30-$40 apiece). So… I'm a guilty online shopper. I annually replenish a pair of black Vans authentics, and did just splurge on a pair of Allen Edmonds earlier this year. Banana Republic chinos six out of seven days per week. Occasionally ratty band t-shirts, but sometimes a little more snappy (Benny Gold, Crooks and Castles, Brixton, Diamond Supply). The internet is just making it too easy to buy quality-made clothes from startups and smaller shops, and I kind of love supporting that. But sometimes we have to dress up, and my goal is to start buying more tailor-made suiting, which is surprisingly less money than people think. Oh, and I've recently learned there's tremendous value in buying individual pairs of comfortable underwear. Highly recommended.
How has living in PHX influenced or changed your style? It's weird, despite the heat, I don't wear shorts. Personal preference. It seems like Phoenix is definitely enjoying some of that mid-century casual-formal style that germinated on the West Coast, where there's emphasis on lighter materials, bolder colors, and a well-groomed appearance. I routinely use a ton of pomade, cuff my pants and generally try to keep things pretty simple. I've also worn down a pair Ray Ban Clubmasters, which get a comment here and there, so I put a bit of effort into not falling into any stereotypes. Fail, though.
What are you wearing? Clothes, jewelry, shoes, etc. Jacket, shirt, and pants: J.Crew. Shoes: Onitsuka Tigers. Pomade: Shiner Gold (psycho hold). Left at home: Nixon Sentry watch.
Thanks for raising the bar and setting a new level of dapper-ness (that's a word, right?) as we creep into the heat of summertime in PHX. I hope to see more PHX fellas upholding their style with as much quiet confidence and ease as Mr. Layshock.
Photos by Kammie Kobyleski.
---