In DPJ's Street Style PHX series, Kammie Kobyleski hits the streets in search of the looks that define our city style.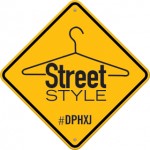 "Buy less, choose well, make it last." -Vivienne Westwood
As I was out gallivanting/carousing/cavorting this past First Friday, I spent a little time people watching outside the PHX Art Museum. I asked my fave fella to keep his eyes peeled for a worthy subject for this weeks DPJ Street Style subject. I'd seen a few contenders but had almost lost hope, when my man called my name and gave a subtle nod in the direction of the door. I caught a glimpse of a pixie-like, copper haired beauty just as she stepped into the museum, but kept a watchful eye on the door and caught up with her on her way out.
Charis Elliot is the founder and designer of Mother of Gideon, a sustainable jewelry company based in Phoenix and located inside the UNION at Biltmore Fashion Park. Charis was most definitely a #firstfriday "it" girl, and I just had to know more about her bold, yet minimal style.
Where are you from?
"I grew up in West Texas, the Austin area, but have called Phoenix home since 2003".
 What do you do?
"I'm the founder and designer of Mother of Gideon, a sustainable jewelry company based in Phoenix. Everything is handmade with local materials with a focus on custom, one of a kind pieces."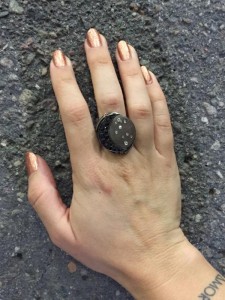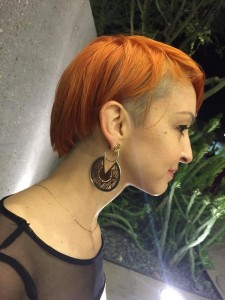 If you could raid one fashion icon's wardrobe, who would it be?
"I don't think I have anybody that I look towards…my background is in ethical and sustainable fashion. It's my life's passion, so I think the only person that I would want to sit down with is the founder of People Tree, a sustainable Fair Trade clothing company in London. I've met the director, but not the founder, so it would be great to meet her and talk about her production model and business model and how it impacts people. I used to run a Fair Trade and organic clothing line out of Mexico, and I'm about to launch another one based on sustainable business, modeled after Fair Trade principles and ethical sourcing. I want to provide a clothing line that meets the demand of the things that we want to buy."
Charis's passion was clear as she gave a shoutout to everyone's favorite local up-cycled fashion boutique, "We don't want to feel bad about the clothes we wear, and there's only so many things you can buy at Buffalo Exchange. The most sustainable thing you can do is buy recycled, but we need more places to buy them. That's my personal mission and goes back to my childhood growing up in West Texas near the cotton fields and seeing a lot of things being exposed to chemicals. Having worked in Fair Trade around the world, I really want to bring back that model and do it even better this time. I'm excited to launch next year…I haven't even talked publicly about this yet, but it's in the works!"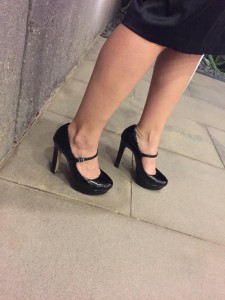 What is it about living in PHX that has influenced your style, the way you create and design jewelry, and the elements you use to create for Mother of Gideon?
"We use a lot of local stones. All Arizona turquoise, and amethyst from the Four Peaks amethyst mine. We use local artisans to cut the stones, so it's very influenced by what is here and what's available and also heavily influenced by mid-century architecture, Frank Lloyd Wright, Haver, a lot of art deco, and local influence. Kind of a modern-future-southwest feel to some degree."
Tell me about this fabulous ensemble you're wearing?
Top – Buffalo Exchange
Skirt – a friend made it
Jewels – Mother of Gideon
Shoes – Vince Camuto
Bag – Skingraft 
Charis's up-cycled style looks effortless and on point, and she schooled me in a lesson on sustainable fashion. Just another Phoenix First Friday out on the town!
Check out Mother of Gideon for more locally inspired and designed gems at http://www.motherofgideon.com/
Images by Kammie Kobyleski.

---