Here at DPJ, we're all about sharing what we love. Beyond the stories that make us love downtown, we often come across things that catch our eye, tingle our senses or have us dancing in delight. "We Like…" turns a brief spotlight on the little treasures that make our day, with helpful links so you can share in the fun.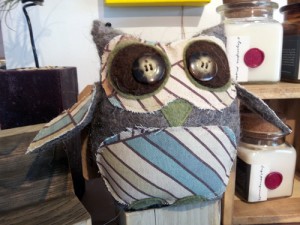 Okay, I know I'm eccentric, but as I move oh so gently into my, ahem, late adulthood…I still retain my deep fondness for a well made stuffed animal. Not just any stuffed animal will do, however. Quality materials and construction, whimsical facial expressions, robust stuffing, and a palpable aura of personality separates the especially worthy "lovey" from the stuffed animal dreck that line the shelves of big box toy stores.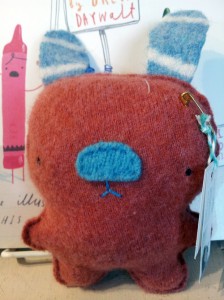 Made Art Boutique carries two of my current favorite heirloom-quality, handmade stuffed toys. The newest addition to the store is  Elizabeth Pomeroy's line, The Painted Sparrow, which features owls (pictured above), hedgehogs and whales colorfully crafted from recycled fabrics and felts.
They are a great complement to a long time Made favorite, Jennifer Syfu's Sighfoo Stuffies made from recycled sweaters (left).
If you are looking for a child's gift, or simply have a not-so-secret fondness for whimsical stuffed creatures, head over to 5th Street and Roosevelt at your earliest opportunity to check them out.
Visit:
Made Art Boutique, 922 N. 5th St., 602-256-MADE
Want to share your love? Send a note to editor@downtownphoenixjournal.com and tell us what YOU like.
---