Some news items don't need translation. That's why DPJ launched the From the Wire series, so we could serve the destinations here by posting information and announcements – in their own words.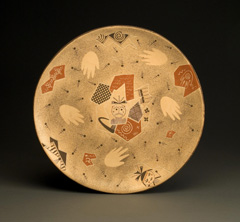 The basic ingredients couldn't be simpler—earth and water, plus a few mineral and vegetal dyes. But in the hands of a gifted artisan, guided and inspired by a long and rich tradition, these humble elements are transformed into stunning works of art possessing exceptional beauty and grace. Elegance From Earth: Hopi Pottery is a new exhibit at the Heard Museum that tells the story of the centuries-old Hopi pottery tradition. Opening on March 24, Elegance >From Earth will offer a comprehensive view of Hopi pottery's fertile legacy. The exhibition closes September 30, 2012.
"Hopi pottery is famous for its intricate painting," comments Heard curator Diana Pardue. "There is nothing else quite like it. By exhibiting both historic as well as contemporary work, Elegance From Earth will illustrate the great range and scope of this wonderful tradition."
Elegance From Earth explores the intertwined matriarchal artistic legacies of the Nampeyo, Naha and Navasie families. The Hopi-Tewa potter Nampeyo (c.1859-1942) was the first American Indian potter to be known and recognized by name. She revived a style of low-shouldered spherical jars based on those made at the village of Sikyatki in the 1600s, evolving detailed and complex designs inspired by Sikyatki pottery. In more recent times, her great-granddaughter Dextra Quotskuyva has received much recognition for her innovative designs and has taught some techniques to other family members, including her daughter Camille and her nephews Steve Lucas and Les Namingha.
The exhibit will also showcase the work of another great Hopi pottery matriarch, Paqua Naha (Frog Woman), who developed a distinctive style of white-slipped pottery with black and deep-red designs that was later adopted by her daughter Joy Navasie, who passed the tradition on to her children and grandchildren. Other significant makers represented include Helen Naha and her two daughters Rainy and Sylvia.
"Pottery traditions, like those of other American Indian art forms, change and become reinvented through time," said Pardue. "Imaginative potters continue to work in centuries-old techniques using clay, paints and firing methods learned from their ancestors, while creating new shapes and painting unique designs."
If you go
Exhibit: Elegance From Earth: Hopi Pottery
When: Opens March 24, closes September 30.
Where:  Heard Museum – Native Cultures and Art,  2301 N. Central Ave., Midtown
Contact: 602-252-8840 or visit heard.org
---