(From the Wire includes press releases received from reliable sources that help tell the story of the many happenings in Greater Downtown Phoenix. Yep, they are ripped from our inbox.)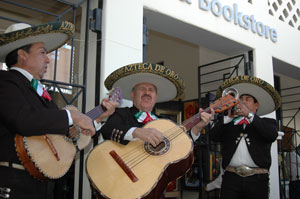 Celebrate the tradition and artistry of Hispanic culture at the Heard Museum's 10th Annual Spanish Market, Arizona's only Spanish Market on Saturday and Sunday, November 12 & 13, 2011, 10 a.m. to 5 p.m. The Spanish Market is presented by SRP.
Strolling mariachis, dancers and artwork by Hispanic artists from Arizona and New Mexico highlight this festive, casual and friendly annual marketplace, the largest of its kind in Arizona. Chat with more than 65 artists as they sell a range of distinctive and unique artwork. With art in every price range, Spanish Market offers buyers a wide selection of objects from different Hispanic traditions including santos, pottery, embroidery, furniture making, painting, printmaking and silver and tinwork.
The Café at the Heard Museum Phoenix will offer a menu of festive and traditional foods. The Spanish Market marks the end of the month-long CALA biannual festival.
On Saturday, see CALA artists at work during a special demonstration. Mariachis will stroll the grounds on Saturday and Sunday. The Café at the Heard Museum will offer a menu of festive and traditional foods and folklorico dancers will perform in Steele Auditorium.
This year's signature artists are husband-and-wife team Veronica and Gabriel Sandoval. This talented duo specialize in the ancient art of repousse, a form of embossing that became popular in Spain in the 12th century and made its way to Mexico along with other Spanish influences. After extensively researching the history of this nearly-lost art form, the Sandovals chose to incorporate additional repousse techniques that were common in Eastern European designs.
COST: free with suggested donation; each person donating $10 or more will receive a museum pass.
The public can learn more about the event at heard.org/SpanishMarket or by calling 602.252.8848.
About the Heard
Since 1929, the Heard Museum, a private non-profit organization, has enchanted visitors from around the world with the art, culture and history of American Indians, with an emphasis on tribes of the Southwest. With more than 40,000 fine artworks and cultural artifacts in its permanent collection, 11 long-term and changing exhibit galleries, an education center, an award-winning Shop, boutique bookstore, coffee cantina and a courtyard Café, the Heard Museum is a place of learning, discovery and unforgettable experiences. In addition to its flagship Phoenix location, the Heard Museum also operates a community museum in North Scottsdale.
---