It's a great feeling seeing a show happening at the Modified Arts after closing last year.
So when Brent Cowles' You Me and Apollo is playing a rare show on Saturday August 20, there's no doubt that people need to go.
Colorado native Cowles has a voice that resembles Luke Pickett. Sweet as a woman's but with the growl of a man's that makes women weak in the knees.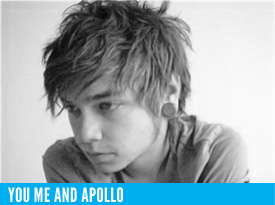 His happy-go-lucky sound in the Modified is a killer combination.
Like most artists, Cowles found an outlet through his music and writing passionate songs of life and the difficulties that come along with it.
After living a year in Phoenix and going back to Colorado, local music label River Jones Music picked him up and released a five song EP.
His influences include indie underground favorites Dr. Dog, who seem to never come to Phoenix, and Cold War Kids, who are paying Arizona a visit in September.
Paired with guitar, soft drums and a beautiful vocal range, Cowles has completed his first full-length Cards and Cheats and celebrating this Saturday with Steff Koeppen and the Articles.
After this show, Cowles is hitting the road on a west coast tour. He is currently putting together a band to leave in September including stops in Flagstaff, Tucson and San Diego.
Before You Me and Apollo packs up the van and takes off, stop by the Modified. Downtowners will get a reminder of those cracking white painted walls covered in abstract, intricate art.
Listen to "Coming Home in a Coffin"
Show starts at 7pm and $8.
---