In a small, wall-carpeted room in Tempe, five band members practice in the middle of the night surrounded by amps, a Beatles poster and a PBR sign all tangled in cords.
Ladylike is trying out a new song "Crime of the Century" and each member is mouthing various ways on how the build-up can go including hand motions and different boom-dom-puh's.
A few tries later, the song is coming together and the band's pop 70s rock sound is full force.
Rob Kroehler, Ryan Casey, Alex Tighe, Austin Owen and Ethan Hillis have become quite the band of brothers.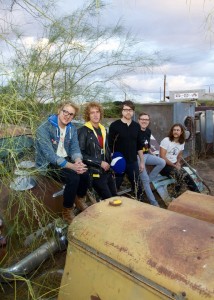 Barely over two years playing as Ladylike, they have been able to tour with fun. and Steel Train, make a music video along the way and record their first full-length album.
"Literally today we got the finally mixes back so it will be mastered and finished by the end of this month," lead singer Kroehler said.
The album's name and release is still up in the air but the band did something that most local bands don't do.
"We wanted an opportunity to get out of our element so rather than recording in the Valley we recorded in Kansas," Tighe said.
The band spent 10 days engulfed in the making of their CD and perfecting each song at Black Lodge Recording studio.
"Ethan and Austin would stay up some nights until we woke up in the morning and started again so we were working the whole time," Tighe said.
Now that they've completed their first full-length, they want to take the band to a whole 'nother level.
"Albuquerque," Hillis jokes on where the band's future goal will be.

"That's a tank of gas," Kroehler responds.
Before the band jumps the gun and leaves Arizona for good ol' New Mexico, come see them at Summer Splash this Saturday at the Lexington Hotel.
Hit a beach ball to some catchy, sing-a-long rock that makes you want to grab a hold of an ice cold Pabst.
Ladylike is perfect music for a Saturday evening in Downtown.
Why should you attend other than all the reasons above?
"Because there's a pool and there will be tons of girls there," Owen said.
Also, there are hints that an onesie will be involved during the set.
Tempting isn't it?
Come join 7 p.m. party starts, music begins at 8 p.m with openers Strange Young Things and Sun Ghost.
---