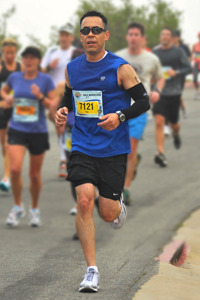 Not all baseball players retire with dignity. Baseball bloggers? They do it with class.
So long, farewell
Paul Martinez, DPJ's D-backs Digest writer, is moving on to focus on the pursuit of a balanced life and a 4-minute mile. This marathon runner/baseball writer has been with DPJ for the past two baseball seasons and deftly navigated the Win-Loss columns to serve up some hopeful news bites about our hometown team.
All-Star Summer
As the D-backs now begin show their mettle and the city looks forward to Downtown Phoenix playing host to the Major League All-Star Week, we know Paul will be root-root-rooting for the home team.
Quick aside
(Ed. note – Paul, you rock. Hope to see you in the stands, at all the good after-game hangouts and on the track earning more medals.)
---