This week some powerful players from across the country and around the world are going to be in Phoenix. They'll be here to discuss things like adapting our city to the new "new economy," orienting new growth and development around transportation corridors and nodes and public/private partnerships that will be needed to produce quality development in the future.
The national 2011 Urban Land Institute Real Estate Summit is being held in our very own Downtown Phoenix. According to chairman of ULI Arizona, Steve Betts, "This is the first time in over two decades that we have had a national Urban Land Institute conference in Arizona."
Why is it important that this development conference is happening here of all places? Because, according to Betts, Arizona is at a crossroads and as we climb our way out of this recession, we have an opportunity to "reinvent ourselves as a community in terms of growth patterns and in terms of the kinds of jobs we produce."
The bottom line is that our old growth patterns don't work anymore. And for Arizona to become a vibrant, attractive place to invest, live and work, we need to be having conversations about creating new patterns and partnerships.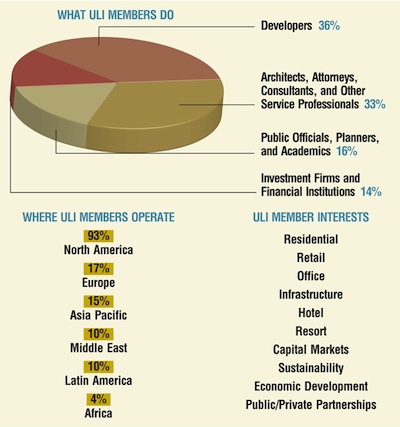 The conference starts on Wednesday and ends on Friday. Thursday will focus on Product Council Meetings, which are smaller confabs about specific development products such as multi-family housing, multi-use development and office development.
Friday is the culmination of the conference and is open to non-ULI members, which means the community at large. People who attend Friday will have access to the closing general session of the ULI portion of the conference with an 8:30 a.m. keynote address by ASU President Michael Crow. Later that morning, there will be several panel discussions about adapting our cities to the future. And finally, the day will conclude with a presentation about leveraging public/private partnerships to facilitate quality development.
There are two registration rates to attend on Friday, one is for people in the private sector, which is $450 for a non-ULI member but is only $95 for a non-ULI member in the public sector. Register here.
We're so excited to have this very significant event here in Downtown Phoenix that has the potential to redirect the future of development here in our city and state. We encourage those of you who can that aren't ULI members, to attend on Friday as this promises to be a wonderful opportunity to hear new ideas and concepts that we can use to catapult Phoenix into a phenomenal future.
---