(From the Wire includes press releases received from reliable sources that help tell the story of the many happenings in Greater Downtown Phoenix. Yep, they are ripped from our inbox.)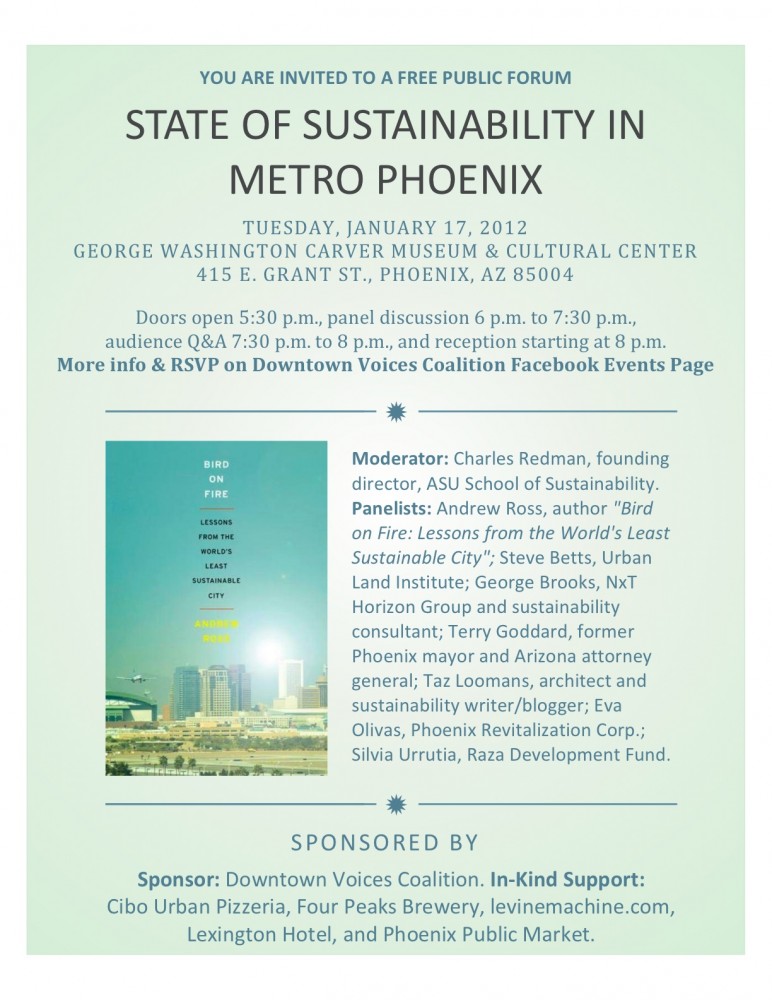 A panel of local experts and Andrew Ross, author of "Bird on Fire: Lessons from the World's Least Sustainable City," will discuss the current state of sustainability in metropolitan Phoenix at a public forum on Tuesday, January 17, 2012.
The event, free to the public, will be held at the George Washington Carver Museum & Cultural Center at 415 E. Grant Street. Doors open at 5:30 p.m., panel discussion 6 p.m. to 7:30 p.m., audience Q&A 7:30 p.m. to 8 p.m., and reception with complimentary refreshments 8 p.m. to 8:30 p.m.
Panel moderator will be Charles Redman, Arizona State University (ASU) Virginia M. Ullmann professor of Natural History and the Environment and founding director of the ASU School of Sustainability.
The current slate of panelists (with two to be added soon) includes:
Steve Betts, former president/CEO of SunCor Development and current Arizona District Council Chair of the Urban Land Institute;
Terry Goddard, former Phoenix mayor and former Arizona attorney general who now teaches a course at the ASU Downtown Phoenix campus: "Phoenix and the Art of Public Decision Making;"
Taz Loomans, architect and writer/blogger on sustainability issues;
Eva Olivas, executive director, Phoenix Revitalization Core
Andrew Ross, professor of Social and Cultural Analysis, New York University.
Silvia Urrutia, director of Housing and Healthcare Finance, Raza Development Fund
According to Susan Copeland, steering committee chair of Downtown Voices Coalition, "Issues of sustainability are paramount to the future of Phoenix. Ross' book is a great springboard from which to begin, or continue, discussion."
The Downtown Voices Coalition is sponsoring the event with in-kind support from the Lexington Hotel in downtown Phoenix, Four Peaks Brewery of Tempe and the George Washington Carver Museum and Cultural Center.
"Bird on Fire" is available at Made Art Boutique, 922 North 5th Street in downtown Phoenix and at Changing Hands Bookstore at 6428 South McClintock Drive in Tempe. It is also available at Burton Barr, Cesar Chavez and Mesquite Branch libraries in Phoenix.
About the Sponsor
Downtown Voices Coalition is a coalition of stakeholder organizations that embrace growth in downtown Phoenix, but is mindful that healthy growth should be based upon existing downtown resources — the vibrancy of neighborhoods, the strength of the arts community, the uniqueness of historic properties, and the wonderful small businesses that dot downtown. For more information, visit downtownvoices.org
---