Every year, an artillery of food-related events stamp the local calendar.
From week-long circuits to more streamlined weekend-only festivals, attending multiple in tight succession can sometimes feel redundant. Bleeding into each other with similar themes, similar participants and similar dishes, it can be difficult to differentiate. The Devoured Culinary Classic for example, now a citywide benchmark held each spring in the cinematic confines of the Phoenix Art Museum, is an illustration of one that coasts above the fray.
One of our more tenured annual food events, Forks & Corks, now in its eighth circle of the yearly calendar, is also increasingly worth the extra attention. The one-night gathering, brought to us by some of the powers behind our region's hospitality industry (namely the Arizona Hotel & Lodging Association and the Arizona Restaurant Association), Forks & Corks is a sharp, hotel-centric buffet of some of the area's billboard dining establishments paired with wines and brew from purveyors both local and beyond.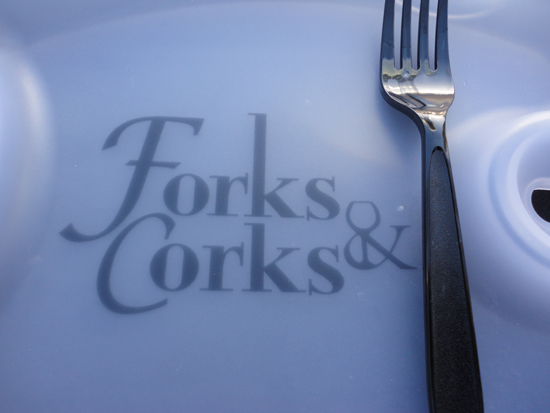 With the pep of a handsome post-work mixer, Thursday's well-attended event was a decisively more measured example of the tried-and-true culinary festival. While the food served was definitely not restrained, the crowd was — primped and resort casual, attendees were posed for a mid-week evening of high-minded grazing.
Some of the evening's most memorable bites came simultaneously from participants both expected and surprising.
As anticipated, Different Point of View (Pointe Tapatio Cliffs), with its stout diver scallops, cooked to order atop a smoky, buttery corn "chowder" and salty, bitter fiddleheads; District American Kitchen (Sheraton Hotel Phoenix Downtown) and its perfectly portioned (and spirit-warming) chicken and waffles; Litchfield's (Wigwam Resort), with some soundly seared Colorado lamp chops and silky creamed spinach; and even Province (Westin Phoenix Downtown), in particular, with its irresistible jewel-sized, frosted squash cakes, all came to the game strong.
Equally impressive eating came with the bite-sized fry bread tacos from Cholla Steakhouse (Casino Arizona), filled with chopped, tender spiced lamb, sweet roasted yellow peppers and goat cheese; Aventura Catering's refreshing, light-footed shrimp gazpacho; Top of the Rock's (Marriott Buttes Resort) geometric cubes of ruby-glazed pork belly; and Bluewater Grill, with its appropriately titanic raw bar, stacked with knobby, just-shucked oysters — optimal finger food for crowded, fast-paced eating.
An added pillar of this year's Forks & Corks came, strikingly, in the form of its host venue. Previously held at other locations throughout the Valley (most recently at the Camelback Esplanade) this year's decision to accommodate the event within the scope of CityScape was one of the most marked, positive impressions of the evening.
With Central Avenue closed off for an entire block, allowing attendees and participants to overflow and wrap all available fingers of the complex's urban courtyard, Downtown Phoenix immediately became the biggest participant of them all.
Though seemingly countless, similar events take place each spring throughout the city, whether for the food or the atmospherics, it's nice to know some emerge as standouts amid the noise.
---