Drinking a well-made cocktail is akin to having an epiphany, suddenly a moment of clarity arrives. Measured and balanced, you not only realize what's possible–you finally realize what you've been missing.
The bar inside Province, the new in-house restaurant at the mutually minted Westin Downtown Phoenix Hotel, has become the latest Downtown terminus for expertly engineered adult beverages.
From house-made sangrias to devilishly spicy, cilantro-heavy Bloody Marys, Province's studied menu of specialty cocktails mirrors the directional thread of restaurant's kitchen–seasonal, modern American with noted Latin veins.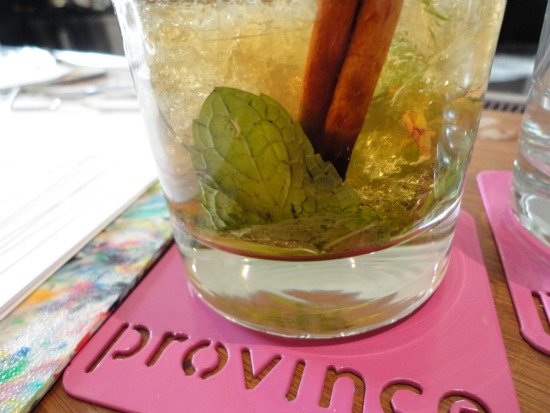 An indulgent starter to Province's cocktail journey is the Smart Money. A chilled makeup of muddled mint and fresh pear mixed with the floral, weightless attributes of white whiskey (a young, largely steel-aged, wheat-based whiskey) and the sweet warmth of bonded apple brandy, the drink is then polished with the stir of a flamed cinnamon stick. It's like a mint julep laced with added spice, emboldened with the depth of fruit.
Both bright and sour, savory and sweet, what eventually arrives on your hot pink drink coaster (hot pink being Province's primal accent color throughout) is a well-rounded potion that illuminates the benefits of a finely calibrated drinking experience. At one too many bars a drink like the Smart Money could easily materialize into something sticky and overdone, but at Province, the balance is held.
Besides said sangria and Bloody Marys, other beloved drinks at Province: the stalwart Manhattan, bolstered with the intended smoky attributes of rye whiskey, and, the positively effervescent pimlico grid, a carbonated concoction of premium gin, Pimm's No. 1 liquor, ginger beer, just-squeezed lime and cucumber. With the pimlico grid in particular, as our sweltering summer season once again fast approaches, nothing could seem more appropriate.
Province is located inside the Westin Hotel at 333 N. Central Ave. in Downtown (light rail at Van Buren station) — 602.429.3600.
---