There is nothing better than comfort food that reminds me of home moving into the neighborhood. Five Guys Burgers and Fries opening in CityScape is a sign that, if there is truly a burger heaven, it now exists in our fair city.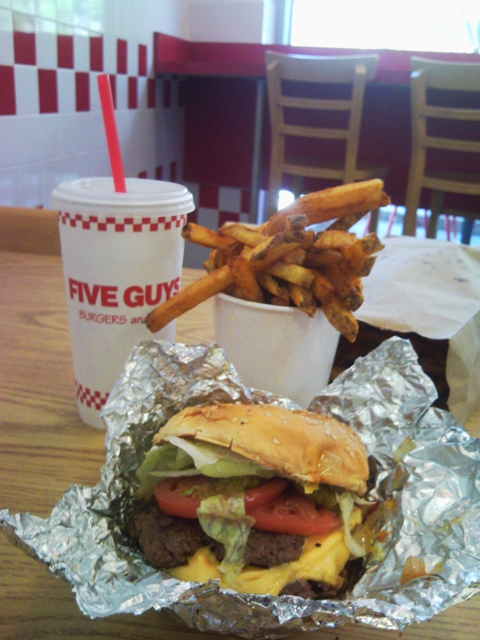 When the monster that is my hunger reared its fearsome head today, I knew that the only thing that could conquer it was a ridiculously amazing burger. Thank goodness for the new kids in town.
I can't say that this was my first rodeo when it comes to eating at Five Guys, so it is hard to contain my joy that they are finally in Downtown Phoenix. When you first walk into their peanut-filled dining room, you realize that this place is a little bit of old school burger culture. You will also notice that nearly every remaining print publication from coast to coast speaks highly of the affordable Five Guys cuisine.
With all that said, my order was extremely easy to make. To further this blog's gluttony streak, I ordered a cheeseburger Five Guys style — lettuce, tomato, pickles, grilled mushrooms, grilled onions, A1, ketchup, mustard, mayo — and some Cajun fries. I was reminded immediately how legit this place was when, upon stating my order, the cashier shouted back to the cooks, "One patty!" I have always been of the school of thought that if they don't shout my order to the kitchen, then it is probably not going to be an amazing burger. Shouting and sweet grilling magic seemingly go hand in hand.
So, once they slid my freshly grilled burger to me, I knew that my hunger would be totally vanquished. Having dug my burger out from a sack full of fries, I ravenously dove in. Flavorful and juicy with a mountain of toppings, this is a seriously scrumptious patty. The burgers are seasoned and cooked to perfection. Once you are even just a few bites in, you realize that whatever hype is attributed to them is for real. Dadgum delicious!
The Cajun fries are a must-eat like the burger. They seemingly ignite with flavor with each bite. Also, it helps that Five Guys is not at all shy about giving you healthy portions, no matter what size you order.
I fully expect to see all of you milling around CityScape as it continues to grow. With Five Guys Burgers and Fries now open, I have a very good reason to hang out there every day. Fortunately for my growing bum, the gym is just across the street.
Five Guys Burgers and Fries is now open in CityScape at the corner of 1st Avenue and Washington Street (light rail stations at Central/Washington and 1st Ave/Jefferson) — 602.687.7575
---