Sometimes you just need some beef brisket with a kick. Fortunately for my taste buds, I have heard that Vitamin T is slinging some serious grub in the shadow of CityScape.
I pedaled myself on down to cease the growling of my stomach. When I did, I was met with the sweet smells of simmering goodness coursing through the doorway.
As I perused the menu, remember that I was craving beef brisket. It was settled: barbacoa tacos. After all, this place does boast of three things: tacos, tortas and tequila. I could only partake in two of those things that early on a Tuesday. Don't judge me.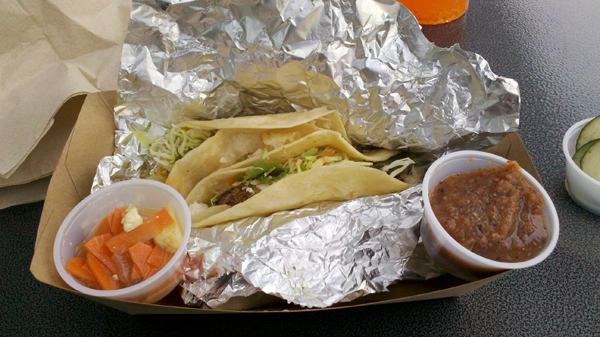 Loaded with chili-rubbed beef brisket, queso fresco, avocado crema and salsa verde, the barbacoa tacos seemed almost like a mirage. To top it off (literally), I turned around to the salsa bar that was packed with fresh ingredients and serious variations of amazing salsa. This meal was already epic before I even had a taste.
At first bite, my thoughts of epicness were confirmed. The beef was succulent and savory. Each bite spoke to the labor of love that went into the process of making the barbacoa.
As CityScape grows, I can only expect to see more restaurants pop up, but I think I might have already found my favorite. I will have to head over now for a daily dose of tacos and tequila.
Vitamin T is located at 1 E. Washington St. (light rail at Central/Washington or 1st Ave./Jefferson) — 602.688.8168
---