From the Arizona Room is a weekly column examining the historic, reuse and infill structures in Downtown Phoenix. The inspiration for this column stems from the ever-expanding resources in Burton Barr Central Library's Arizona Room (located on the fourth floor). For further information on this and other historic structures in the area, visit the Arizona Room during normal library hours.
544-550 W. McDowell Rd. in Willo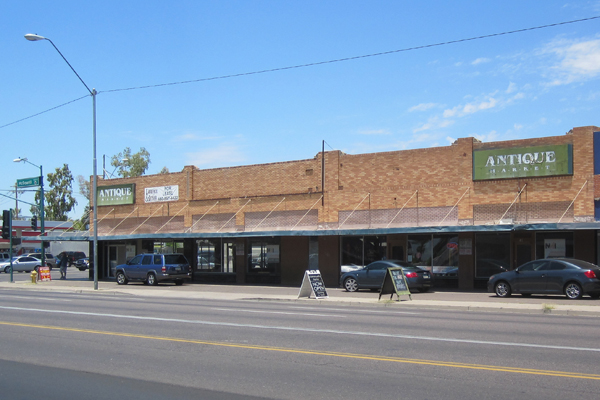 DPJ published a feature story in December 2009 on the resurgence of the corner of 7th Avenue and McDowell Road, an intersection that we dubbed "The Gateway to Downtown Phoenix." Within the story, the structures at the intersection were examined, one of them being the Hurley Building, on the northeast corner. This week we examine the western part of the building (the first part built), and next week we'll head further east down its storefront row to the current My Florist Café space.
The building, expanded over a period of more than two decades, encompasses the entire northeast corner of the intersection, and features the iconic Antique Market signage. The western edge, erected in 1929, is the panel brick section directly facing the intersection. Architect Jake Knapp and builder B.T. Wilkinson took on the project in the late '20s, representing Phoenix's first zoning ordinance of neighborhood commercial districts at a major intersection in an otherwise residential area. For residents of what is now the Willo neighborhood — at the time quite suburban — this strip represented the first commercial build that offered easy walkability and convenience.
The building also symbolizes Phoenix's fascination with brick structures and Art Deco style in the late '20s, as evidenced by the wall sheathing over cast stone panels. The concrete foundation remains in solid condition, though chunks of the façade have been altered time and time again as businesses have come and gone.
This original portion of the building features 11 bays (storefronts), and currently houses Community Florist. It was added to the National Register of Historic Places in 1985.
Source: Willo-Alvarado Multiple Property Area Historic Resources Survey, 1989.

Is there a historic property in Downtown Phoenix you'd like to see in From the Arizona Room? Email me at si@downtownphoenixjournal.com with the address and a brief description.
---