From the Arizona Room is a weekly column examining the historic, reuse and infill structures in Downtown Phoenix. The inspiration for this column stems from the ever-expanding resources in Burton Barr Central Library's Arizona Room (located on the fourth floor). For further information on this and other historic structures in the area, visit the Arizona Room during normal library hours.
538-542 W. McDowell Rd. in Willo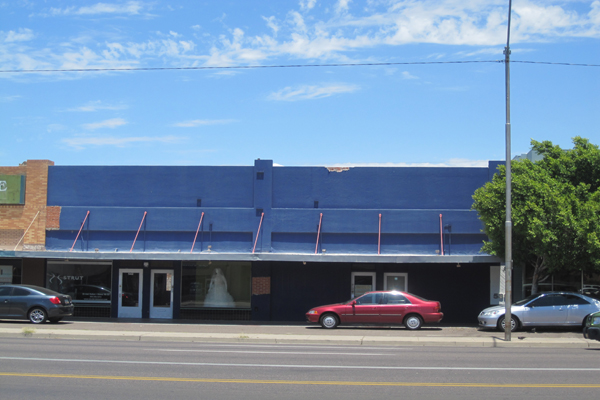 Last week's blog examined the earliest section of the Hurley Building on 7th Avenue and McDowell Road. This week, let's move to the middle chunk of the building, a post-WWII-era structure that is currently home to Strut Bridal Salon.
Examining the Hurley Building from the street, it's fairly obvious that it was built in sections — sections that each have unique exteriors and building materials. The storefronts at 538 and 542 W. McDowell Rd. started construction in 1946, and blueprints called for a Neo Colonial-style panel brick commercial-purpose building connecting to the previous section of the building to the west.
Its concrete foundation and brick structure are similar to the previous edge of the building, but it uses stucco wall sheathing as opposed to brick — a sign of the times, as builders looked to cut costs as Arizona's population began to grow and building demand was high.
This newer section of the Hurley Building has three storefront bays that have been significantly altered over the decades — originally, the storefronts on McDowell featured wood entries with glass. It may not be up for historic preservation status at any point, but it is certainly a prime example of a sixtysomething-year-old building from Phoenix's post-war boom days.
Source: Willo-Alvarado Multiple Property Area Historic Resources Survey, 1989.

Is there a historic property in Downtown Phoenix you'd like to see in From the Arizona Room? Email me at si@downtownphoenixjournal.com with the address and a brief description.
---