From the Arizona Room is a weekly column examining the historic, reuse and infill structures in Downtown Phoenix. The inspiration for this column stems from the ever-expanding resources in Burton Barr Central Library's Arizona Room (located on the fourth floor). For further information on this and other historic structures in the area, visit the Arizona Room during normal library hours.
2233 N. Alvarado Rd. in Alvarado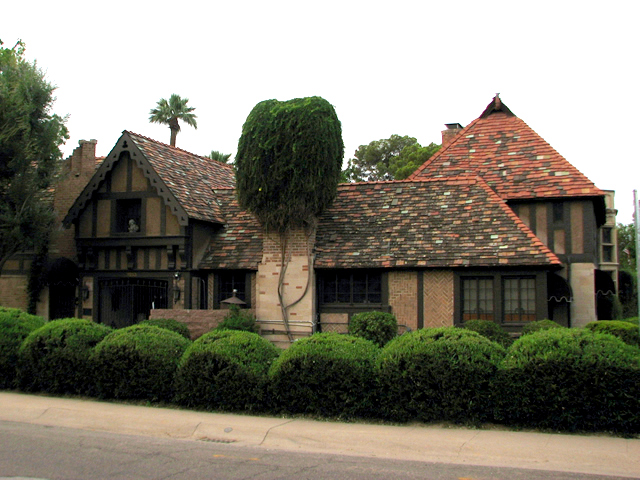 Many loyal DPJ readers remember Yuri Artibise's insightful story on GeOasis' geothermal cooling system in the historic Carter W. Gibbes Home. For this week's blog, I decided to provide a bit of the history of the home, which remains one of the Alvarado Historic District's most praised buildings.
The Alvarado neighborhood is but a blip in the scope of Central Phoenix — hardly even two city blocks — but its tree-lined streets, sprawling lawns and urban mansions provide a sense of privacy just steps from the bustle of the Heard Museum and Central Avenue.
For 80 years, the Carter W. Gibbes Home has been nestled in this district, at the elbow of Alvarado Road where it veers from north to east. A shining example of traditional Tudor Revival style with a hint of French chateau influence, the home is classic early-century brick with stone wall sheathing. Gothic Bay window stylings and meticulous landscaping make it all the more eye pleasing.
Architect and builder Neil H. Gates broke ground on the home in 1930, and envisioned the hip, high-pitched roof synonymous with the Tudor Revival style. The slate sheathing and exposed rafters were also common features of roofs of this design. While Gates always referred to the home as "Tudor Elizabethan" in style, the Willo-Alvarado Survey names it "the best example of high-style Tudor Revival eclectic architecture in Phoenix." Not bad at all.
Gibbes, a renowned interior decorator who wintered in the home, styled it ornately (many of his touches still remaining today), but it wasn't until the GeOasis cooling system was recently installed by the current owner that the home became tolerable year-round.
Source: Willo-Alvarado Multiple Property Area Historic Resources Survey, 1989.

Is there a historic property in Downtown Phoenix you'd like to see in From the Arizona Room? Email me at si@downtownphoenixjournal.com with the address and a brief description.
---