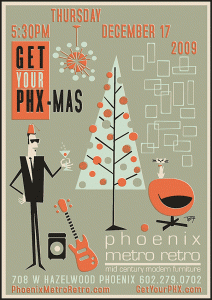 Tis the season for friends, family and fun (and a little shopping). Come and experience all these and more at Get-Your Phx-Mas, the swingingest Christmas event this side of Vegas! The event, part of the monthly Get Your PHX events, will be held on December 17 at Phoenix Metro Retro from 5:30-8:30 p.m.
This special holiday installment of Get Your PHX will feature catered food and drinks, plus live music from special guests Surfside IV, a local band that plays swingin' surf guitar sounds, circa 1965. To help offset the costs of the food, drinks and band, guests are asked to bring a $5 or $10 donation.
The goal of Get Your PHX is to highlight and support those who pioneer new restaurants, stores, bars and event spaces in Central Phoenix. Organizer Ken Clark wants to provide a boost to business owners who "put their sweat, tears and wealth on the line to make life great Downtown." It is also a chance to meet others who want to get the most out of Phoenix.
Phoenix Metro Retro is an amazing mid-century modern furniture store that is owned and operated by Heidi and Doug Abrahamson. The store offers a wide selection of vintage mid-century modern furniture and home furnishings at affordable prices. Heidi is also an accomplished silversmith, whose modern-style jewelry can be found at select stores throughout the Valley. She operates a studio inside the Metro Retro building.
Phoenix Metro Retro is located at 708 W. Hazelwood St. in 7th Ave./Melrose — 602.279.0702. For more information about the event (and to RSVP), please check out the event's Facebook page.
---