pub crawl
Posted on 6/23/14 by DPJ Staff » No Comments
DPJ's Wire series delivers news and information straight from the source without translation.
Local First AZ to Celebrate Independents Week June 29 – July 6 with Events, Discounts, Contests, and More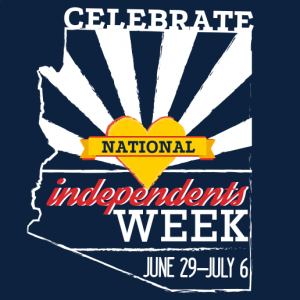 In recognition of National Independents Week, Local First Arizona (LFA) will honor locally owned and independent businesses across the state from Sunday, June 29, through Sunday, July 6. The nationwide Independents Week campaign, coordinated by the American Independent Business Alliance and also known as "Indie Week," takes place during the week of Independence Day with the purpose of enlightening consumers to the importance of supporting local businesses.
This year, Local First Arizona is hosting a series of events in the Phoenix Area to celebrate Independents Week. The first event was Phoenix Independents Bowl on Sunday, June 22, at Let It Roll Bowl and Entertainment at 8925 N 12th St, in Phoenix. This bowling tournament brought together local bands, independent businesses and fans of Arizona's local scene in a battle to determine the best bowlers in Phoenix.
On Wednesday, July 2, Local First Arizona is hosting a special Downtown Dinner with Pizza People Pub and the Phoenix Art Museum. The event starts at Pizza People Pub, where attendees will sample delicious food. Attendees will get to meet the owners and hear from special guest Phill Weddle, one of the architects behind the Hance Park redevelopment efforts. Next, attendees will head to the Phoenix Art Museum for a special tour of the Hollywood Costume Exhibit, featuring over 100 costumes from Hollywood films over the past century. Cost to attend is $20 per person, which includes food at Pizza People Pub and entry to the Hollywood Costume Exhibit at the Phoenix Art Museum. Registration is open to the first 100 people.
Local First Arizona will also be holding their second annual Indie Week Pub Crawl on Thursday, July 3. Attendees will be visiting locally owned pubs around Phoenix's Roosevelt Row. Pub crawlers will visit several bars where they'll enjoy drink specials and local trivia for fun prizes. More details to come on the LFA website and Facebook page.
Modified Arts' upcoming gallery show will feature local artists Douglas Towne, Jeremy Rowe, and James Angel, who will be displaying works related to the history of Phoenix and Phoenix's local business community. The show can be viewed during July's First Friday on Friday, July 4, from 6:00 p.m. to 10:00 p.m. The gallery show opens on Friday, June 20, at 6:00 p.m.
In addition to these events, there are other ways to participate in Independents Week and celebrate local businesses, including the return of the Golden Coupon (good for 20% off at participating Local First member businesses), contests, and more. Individuals are encouraged to check http://localfirstaz.com/independents-week/ for updates as they are made available.
Posted on 10/11/12 by DPJ Staff » No Comments
DPJ's Wire series delivers news and information straight from the source without translation.
Facebook Mary Ellen, Tweet cousin Saul. The return of autumn means it's time for us to Crawl.
Over a dozen Downtown Phoenix bars and restaurants will be serving up specially priced snacks and spirits during the Sixth Annual Downtown Phoenix Pub Crawl, which returns on Saturday, October 13, from 9 p.m. to 3 a.m.
The best part about the Downtown Phoenix Pub Crawl is that you really don't have to crawl anywhere. Wear those really uncomfortable boots you've been saving for cooler weather because we have a fleet of trolleys waiting to take you from pub to pub, first-class and proper like.
Collect colorful beads, never ever pay a cover, and meet cool new friends while enjoying Arizona's only truly urban environment.
Over 1,000 Crawlers will participate in this year's fall classic, many traveling in large teams led by Downtown Phoenix Ambassadors.
Trolleys will loop through the Pub Crawl route from 9 p.m. to 2 a.m., giving Crawlers safe passage to as many bars as they want, from core favorites like Copper Blues, Majerle's, Lucky Strike and Seamus McCaffrey's to Roosevelt District haunts like Bliss, Carly's, Turf and Pub Crawl newcomer Film Bar.
Members of the Downtown Phoenix Twitter, Facebook and Weekly Insider e-mail communities will receive clues on how they can win more than 100 free tickets that will be given away the week leading up to the Crawl. Also during the week of October 8 there will be daily ticket giveaways at the Pop-Up Park from 11 a.m. to 1 p.m. The Pop-Up Park takes place on the CityScape plaza at Central Avenue and Washington Monday through Friday and at the Arizona Center on Thursday.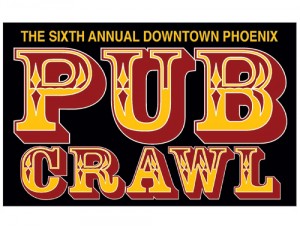 For those who don't win tickets, they are $12 online at downtownphoenix.com/pubcrawl or $15 the day of the event. All Pub Crawlers must be 21 years old to participate. Tickets purchased in advance must be picked up at check-in between 10 a.m. and 10 p.m. October 13 at 101 N. First Avenue, Phoenix, AZ 85003.
Did you Crawl too much? Discount Cab Company will shuttle wobbly Crawlers home and give them a free ride back to their vehicles the day after if you call (602) 200-2000.
For discounted Pub Crawl tickets visit downtownphoenix.com/pubcrawl.
Posted on 10/21/11 by DPJ Staff » No Comments
(Jill Bernstein and Courtney McCune contributed to this article.)
Here is the rundown of activity that will get your feet strolling Downtown Phoenix streets this weekend.
Third Annual Grand Avenue Festival
The creative spirit will be alive and kickin' on Saturday, October 22 from 3 p.m. to 11 p.m., when art galleries, local businesses, vendors, and musicians will be out en masse to celebrate neighborhood sustainability on Grand Avenue.
Featured events of the day include the ReDapt Commercial Building Tour, which will visit some of the neighborhood's adaptive reuse projects and historic buildings; tours of Oasis on Grand, an old motel that has been remodeled and reborn as colorful live/work/retail spaces for artists; and the Grand Mural Love Map, which will be available for self-guided tours of the Grand Avenue murals.
Other highlights include the Recycled Rubbish and the Local Boutiques Fashion Shows and the always popular Hanging Gardens & Woven Fences & Trashy Sculpture show.  In addition, local Latino and Indigenous arts organization, CALACA, will celebrate the upcoming Day of the Dead with their "Dia de los Muertos Exchange Project" exhibit at Bragg's Pie Factory.  Mobile food vendors, including Chichi's Tacos will be on hand to keep you fortified for the day.
Bike riding to the festival is encouraged! Street parking is free along Grand Avenue between Van Buren and Roosevelt. Additional free parking is available in the lot just south of Bragg's Pie Factory, at Grand and McKinley, and in the lot next to Oasis on Grand at 15th Avenue and Grand. Find out more about all of the Grand Avenue Arts Festival events.
First Annual Evans Churchill Interesting Interiors Tour
Earlier in the day, witness downtowners in their natural habitat and take a peek behind the doors of some of the coolest pads in the Evans Churchill neighborhood, from urban loft apartments to cozy historic bungalows.  Tours will be offered from 10 a.m. to 4 p.m
Go "green" and tour the neighborhood on Ollie the Trolley, pedicab, bicycle, or foot. Mile High Challenge will create a special walking tour map for the event. Tickets are available online or the day of the tour at MADE Art Boutique, 922 N. 5th St., and the Phoenix Public Market, 14 E. Pierce St. Admission is $10 adults, $8 for seniors and students (with valid ID), and free for children six years and younger. Receive $1 off the ticket price by bringing a canned food item to the event to benefit St. Mary's Food Bank. Proceeds from the tour will benefit public improvements in the Evans Churchill neighborhood.
Arizona Humanities Festival
Downtown's Civic Space Park (easy to access by light rail!) will be home to a day-long celebration of the diverse cultures that surround us and will include presentations of Chinese Lion Dancing, Ballet Folklorico, the history of Hip Hop, Corridos in Arizona, Taiko Drumming, FourWheelWarPony (a film about an Apache skateboard team), and much more. The festival runs from 10 a.m. to 6 p.m. and is free to the public.  Get the full program and download a parking map.
First Annual Phoenix Food Truck Festival
Move on from drool-worthy homes and culture to drool-worthy food at the Phoenix Food Truck Festival, taking place at the A.R.T.S. market space on Roosevelt Row. Celebrate the mobile cuisine revolution by sampling the goods from over 30 different food trucks.  Hosted by Roosevelt Row Community Development Corporation (CDC) and the Phoenix Street Food Coalition, this event will bring together the valley's finest fare on wheels along with a beer and wine garden and live music.  The festival runs from 4 p.m. to 10 p.m., tickets are $30. Event info at phxstreetfood.org.
Fifth Annual Downtown Phoenix Pub Crawl
Finish the night with "One Crawl to Rule Them All" visiting some of Downtown Phoenix's most beloved bars, saloons, pubs, lounges, clubs and restaurants from 9 pm to 3 am. Spend the night collecting beads from various Crawl stops and cap your evening with a post-Crawl breakfast and dance party at Steve's Greenhouse Grill ($6.95 + gratuity). Giveaways for all who make it to the finish line! The Crawl starts at 9 p.m. with Trolley buses available until 2 a.m. to move participants from pub to pub. Tickets are $12 in advance or $15 the day of the Crawl.
Heard Museum Annual Benefit Gala – Moondance
Performances by Kris Kristofferson and Merle Haggard will cap an evening of cowboy boots and bolo ties as the Heard honors longtime museum trustee and scholar Carol Ann Mackay and her husband Harvey Mackay, author, Arizona Republic columnist and renowned businessman. Food for the event will be presented by Arizona Taste Fine Catering in collaboration with renowned Barrio Café chef Silvana Saloido Esparza. Slap on your spurs and join the fun to help  provide critical funding to meet the Heard Museum's educational mission.