Strolling around downtown Phoenix is a pleasant experience in itself, but add great music, food and drinks to the mix and you've got the makings for a perfect day. And the good news is that you can achieve that perfect day at the sixth annual Downtown Music Stroll on Saturday, April 2 from 2 p.m. to 5 p.m.
Presented by The Phoenix Symphony Young Professionals, this "bar crawl with class" gives participants the opportunity to enjoy live music and great food and drinks at unique bars and restaurants in downtown Phoenix. Tickets are $30 and include a half-pour drink and select appetizers at each location.
Here are the bar and restaurants on this year's stroll:
The Arrogant Butcher
Copper Blues
Gypsy Bar
Hard Rock Café
ICON Lounge
Lustre Rooftop Garden
Squid Ink Sushi
Tom's Tavern & 1929 Grill
Valley Bar
And here is the line up of live music: Pete Pancrazi (jazz), Marty & Ethan Duo (rock, blues and country), Los Guys (Americana), Haymarket Squares (punkgrass), Ira Hill Trio (jazz/Motown), and A Touch of Class (R&B).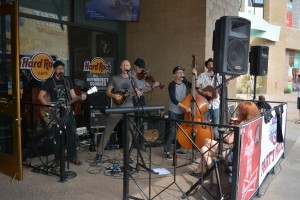 The Downtown Music Stroll is organized by The Phoenix Symphony Young Professionals volunteer organization, with sponsorship from Mutual of Omaha Bank and Local First Arizona and media partnership from Downtown Phoenix Journal. All proceeds from the Downtown Music Stroll will benefit The Phoenix Symphony's Education and Community Engagement Programs which provide music education to 125,000 families and children in our community each year.
IF YOU GO
Sixth Annual Downtown Music Stroll
When: Saturday, April 2 from 2 p.m. – 5 p.m.
Where: Multiple bars and restaurant around downtown Phoenix
Tickets: $30, purchase at phoenixsymphony.org/events/downtown-stroll.
Images provided by The Phoenix Symphony.
---