"I go and shake peoples' hands. I introduce myself and listen to them. Part of making us better is to hear what they're interested in, and oftentimes, great ideas come from people you just meet on the street."
That's Jim Ward, the President and CEO of The Phoenix Symphony. And he's not making this up—he is indeed the kind of guy you can just walk up to. He's immediately likable, sociable, and his eloquence leaves you beyond confident about his handle on running one of the nation's most innovative symphonies.
This Saturday, April 2nd, he'll be hanging around at bars all over downtown Phoenix, so here's your shot.
"Downtown Music Stroll is billed as an "upscale pub crawl," if you will," he says. It runs from 2 p.m to 5 p.m., costs $30, and includes live music, great food, and drinks at a series of bars and restaurants throughout the downtown area. Arrogant Butcher, Copper Blues Rock Pub & Kitchen, and a gaggle of other great spots will play stage to local blues, Americana, Motown pop, R&B, and even gypsy music. The ticket price includes a half-pull drink at each location and some tasty appetizers to satisfy the inevitable salt jones.
It'll be the sixth annual stroll hosted by The Phoenix Symphony, a shindig that started as a bolt-on to the Sunday matinee but has since been teased out by symphony's Young Professionals volunteer organization to give it some more reach and some younger blood ("Symphonies tend to age older," says Ward).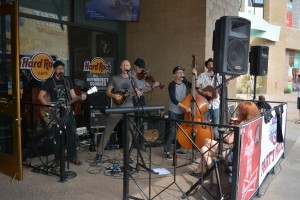 The event's sticker price helps the symphony fund some of its stellar education and community engagement concerts (think audiences full of school kids, and "Velcro Cello" take-it-apart-and-look-inside classroom visits run by professional musicians). "We impact over 125,000 kids and families every year," Ward reports. "That's almost second to the Department of Education."
The Stroll takes the symphony's passion for great music in all forms out into the world rather than asking us all to meet them in the lobby. It's a rare chance to see live music at every one of a host of venues along a pub crawl, and to meet the people behind the instruments, some of whom will be walking right alongside you.
It's for you. It's for your kids. It's for your friends. It's a must-walk kind of thing.
"Because of its inclusiveness," says Ward, "I enjoy meeting a lot of people who might not even come down to Symphony Hall, but are enjoying different kinds of music. For me, it's a very social, fun, and unique experience."
IF YOU GO
Sixth Annual Downtown Music Stroll
When: Saturday, April 2 from 2 p.m. – 5 p.m.
Where: Multiple bars and restaurants around downtown Phoenix
Tickets: $30, purchase at phoenixsymphony.org/events/downtown-stroll.
Venues/Artist:
Venue                                                       Live Music
The Arrogant Butcher:                               Marty & Ethan Extravagonzo (Rock, Blues and Country)
Copper Blues Rock Pub & Kitchen:           Los Guys (Americana)
Hard Rock Café:                                        Jim Nistico Trio (Rock)
Icon Lounge:                                              Joe Costello Project (Jazz)
Hotel Palomar:                                           Ira Hill Trio (Motown/Pop)
Squid Ink Sushi Bar:                                  Rob Kroehler and Grace Rolland (Pop/Bluegrass)
Tom's Tavern:                                             A Touch of Class (R & B)
Gypsy Bar:                                                 Zazu (Gypsy)
Valley Bar:                                                  Obadiah Parker (Acoustic Rock)
---