"100 bands, 20 venues, 1 night in downtown Phoenix."
As the tagline suggests, downtown Phoenix will be buzzing with bodies, energy and music on Saturday, March 11 for the fourth annual Viva PHX music festival.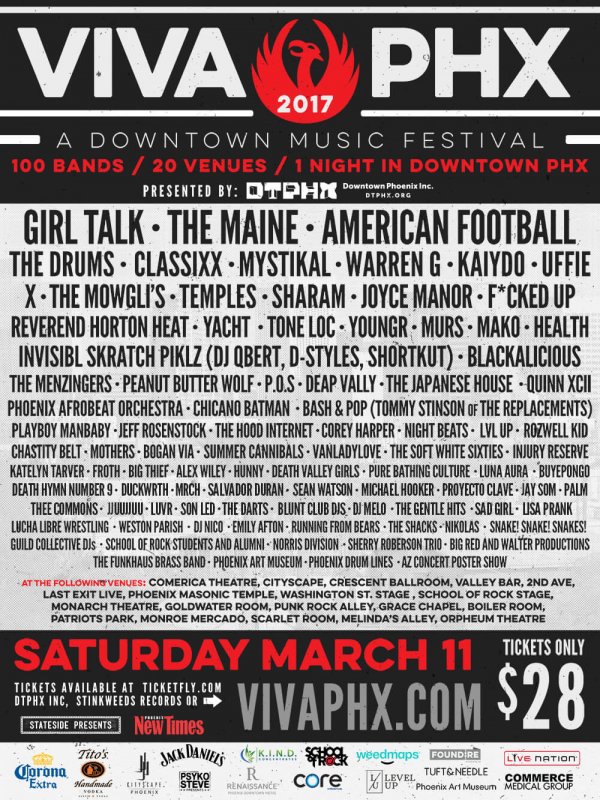 Unlike the traditional two-stage music festivals, Viva PHX has 20 stages spread throughout downtown Phoenix, drawing thousands of people for a night filled with music.
This will be the largest band and venue participation in the event's history, topping the 70 bands and 17 venues that participated last year.
Local alternative band The Maine, who is set to release their sixth studio album in April, will be playing at Comerica Theatre while at the same time, Phoenix post-funk band Playboy Manbaby will be rocking out in Punk Rock Alley. Mothers, a folk/indie rock band from Athens, Georgia will be playing at The Orpheum Theatre at the same time California rock bank Joyce Manor plays on the Central Ave Stage at CityScape. And this only a small fraction of the lineup.
While the list of bands is seemingly endless, the list of music genres is almost as long. Viva PHX-goers can expect to hear the sounds of everything from groove to scratch music and indie alternative to psychedelic cumbia punk.
Another fun aspect of Viva PHX is the use of traditional and not-so-traditional music venues. Downtown favorites like Crescent Ballroom, Valley Bar, Monarch Theatre and Last Exit Live are represented, while unique spaces like Grace Chapel, Punk Rock Alley and the Masonic Temple are activated just for this festival.
Doors open at 6 p.m. and performances runs into the wee hours of the morning, ending at 2 a.m. Should you find yourself feeling peckish – or ravenous – at any point during the festival, food trucks will be located at the Monroe Mercado to serve hungry concert-goers. Many of the Valley's favorite trucks will be present including Queso Good, Burgers Amore and Cheese, Love, Happiness. Also at Monroe Mercado, patrons can grab a cocktail from the bar and watch Lucha Libre wrestling matches every hour.
Be sure to grab your tickets and join 10,000 fellow music-lovers from all over the Valley for an exciting and unforgettable romp through the streets of downtown Phoenix.
If You Go
What: Viva PHX 2017, a downtown music festival
When: Saturday, March 11. Doors for most venues open at 6 p.m., with performances running from 7 p.m. til 2 a.m.
Where: 20 locations through downtown Phoenix. See the full list here.
Tickets: Currently $28, though prices will go up as the events gets closer. Buy them here.
---