If you feel a certain buzz in downtown Phoenix this Saturday night, it may only be partially from that beer you just drank. The rest of it, though, will definitely be attributable to Viva PHX, the choose-your-own musical adventure-style event put on by the folks at Stateside Presents.
This is the third year for Viva PHX, which activates 17 different venues throughout the downtown Phoenix core. The lineup includes 70 musical artists, both local and national, with genres spanning everything from Indie Pop & Rock, Punk, Soul and Electronic to Folk, Flamenco, Cumbia, Hip-Hop and anything in between.
Some of the artists appearing this year include Crystal Castles, The Growlers, Neon Indian, Rocket from the Crypt, Sage Francis, Chuck Ragan, Biz Markie, El Ten Eleven, and Afrika Bambaataa – to name only a very few. Find the whole schedule broken down by venue here.
Viva PHX utilizes traditional venues like Crescent Ballroom and Last Exit Live, but also invites you into unexpected nooks and crannies of our downtown for an unforgettable music-listening experience. Some of our favorite non-traditional Viva venues include the Punk Rock Alley at Central and Adams, the Masonic Temple and Grace Chapel.
One of the great things about this event is that it provides a fun opportunity to discover a lot of new music. And even if your already a fan of some of the artists on the lineup, Viva allows you to experience them in a whole new way.
Along with the music, you'll find a food and vendor area called the Monroe Street Mercado, Lucha Libre wrestling, and plenty of excited music fans rushing through the streets of downtown Phoenix to get to the next show on their list. Viva PHX is truly one of downtown's "don't miss" events!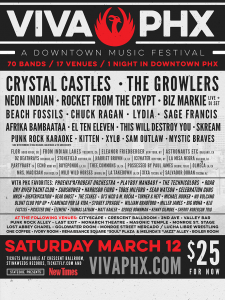 If You Go
Viva PHX
When: Saturday, March 12, Shows begin at 7:00 p.m.
Where: 17 different venues throughout downtown Phoenix
Tickets: $25 General Admission, $45 Fast Pass. Purchase tickets here.
Note: You must exchange tickets for a wristband. Once exchanged, your wristband is your ticket.
Exchange at Talking Stick Arena (201 E. Jefferson St., Phx)
Friday, 3/11: 12 p.m. – 7 p.m.
Saturday, 3/12: starting at 3 p.m.
More information: http://vivaphx.com/index.html
---