Kindness is all around, and on Saturday, January 28th, it will be the main topic of discussion when Ben's Bells "Kindness in Action Speaker Series" returns for another night of powerful conversation and profound insights.
The topic for this event is "Kindness and Masculinity: The Danger of Silence," in which author, teacher, poet, and TED Talk speaker, Clint Smith will raise the question of how we can either be silent bystanders or actively kind citizens.
Drawing on his personal experience and a teacher and author, Smith will share stories of justice, community, and education. By the end of the night, Smith will help you recognize your powerful voice and provide a whole new understanding of kindness and masculinity. The night will be a relaxed evening full of educational, entertaining and inspiring discussion, and offer interesting insights into the meaning of kindness.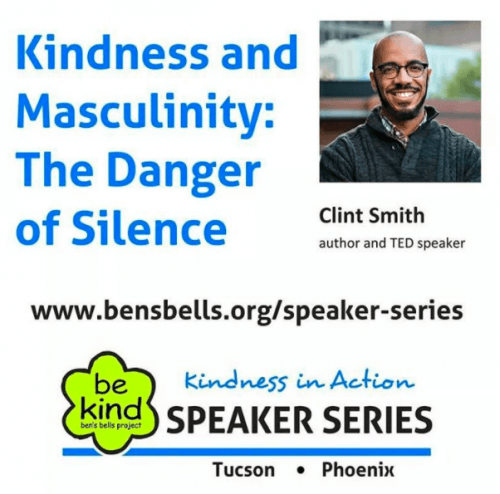 Proceeds support Ben's Bells community programming, which seeks to inspire, educate, and motivate people to realize the impact of intentional kindness. Ben's Bells Project provides educational programming for more than 400 schools, organizations and business. Find more information about Ben's Bells at www.bensbells.org.
If You Go:
What: Ben's Bells Kindness in Action Speaker Series- Kindness and Masculinity: The Danger of Silence
When: Saturday, January 28, 2017, 7:30 p.m. – 9:30 p.m.; speaker at 8:00 p.m.
Where: Changing Hands Bookstore, 300 W Camelback Rd, Phoenix, AZ 85013
Additional Info:
● $18 general admission tickets
● $12 student tickets
● Purchase online: www.bensbells.org/speaker-series
---