Are you good with your hands? What sounds like a pickup line is actually an invitation to put those digits to work at the craftiest event to arrive at Changing Hands: The 2016 Craft Rave.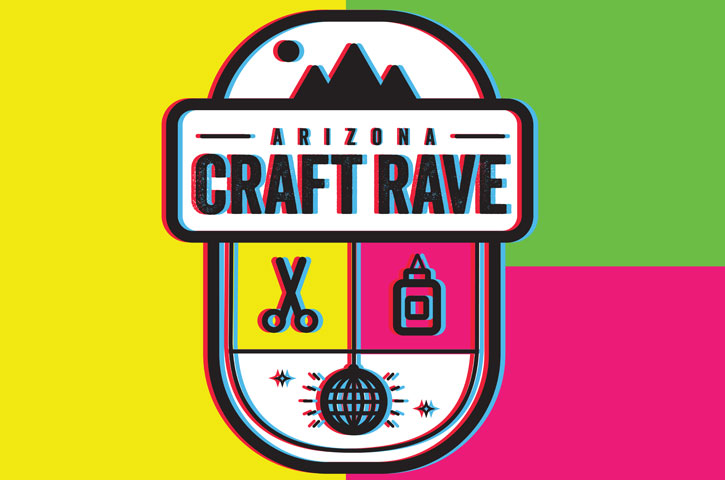 Since 2010, a version of the Craft Rave has popped up in different venues, in and around downtown Phoenix. The Phoenix Craft Rave became the Arizona Craft Rave, and now Craft Rave 2016 will once again bring local artists and craft lovers together at the First Draft Book Bar, located inside Changing Hands in uptown Phoenix.
Those who love to make, craft, and build will have the chance to sit down with local artists and learn the tricks of the trade, making items on the spot and taking home their hand-wrought goods.
The event will feature 10 local artists leading craft workshops throughout the evening, including Lexie Bowers of Iron Root and Kathy Cano-Murillo of Crafty Chica. Cano-Murillo along with Cyndi Coon of Laboratory5 founded the event in 2010, hosting the first craft rave at Bragg's Pie Factory.

This is the first time Changing Hands has hosted such an event, but bringing in members of the community is what they're all about.
"We want to be more than just a bookstore; we want to be a place where people can come together and do things," said Lauren Peugh, event manager at Changing Hands. Peugh estimates between 250-300 crafters will arrive for the event.
Crafters can work with the material of their choice, from paper to wood to bits of sugar, or veer into accessories, mosaics, or leather. The expedient crafter may even attempt to visit all tables within one time slot, or simply have a drink and look over the stacks in between projects.

The event will work similar to a fair: attendees will purchase tickets at the door for $5 each, and those tickets can then be turned in to the artists for a 15 – 25 minute crafting session. Some projects require more than one ticket, and crafters can choose from three 90-minute time slots: 6:00 pm, 7:30 pm, and 9:00 pm, although the 6:00 pm time slot is almost full.
Find further event details and complete list of participating artists on the Changing Hands website.
IF YOU GO
What: Craft Rave 2016
Where: Changing Hands Phoenix, 300 W. Camelback Rd., Phoenix, 85013
When: Friday, June 24, 6 p.m.-Midnight. Admission times are at 6 p.m., 7:30 p.m. and 9 p.m.
Tickets: Admission is $5, plus additional $5 tickets for crafting projects.
More info here.
Images courtesy of Changing Hands.
---