Rhonda Bannard has worn a lot of different hats over the years, but the common denominator has been sharing her passion for getting more people to sample the vibrant life Phoenix has to offer.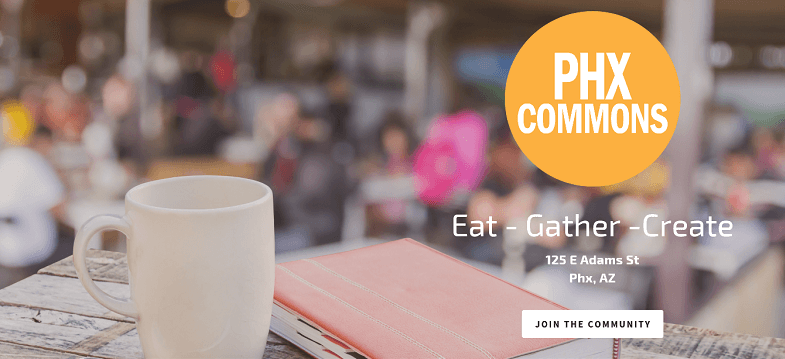 PHX Commons is the result of her vision and experience combined with feedback from a large and diverse number of community members to develop a plan for what she calls "a 21st Century community gathering space" in the downtown core. Plans call for a restaurant, bar, coffee grab & go, retail, bookstore, newsstand, and technology living room.
"One of our concepts is (that this project is) of, by and for the community," says Bannard, managing partner of the project. "It is shaped by the community. It is for the community, and they informed it."
The $4 million proposal would extensively remodel and transform the 11,400 square foot, city-owned space formerly occupied by the Matador Restaurant at the corner of Adams and First streets. The space also includes 1,300 square feet (a former Swensen's Ice Cream store) which will be used for storage and backroom technology. Patios would be added to engage with the streetscape.
PHX Commons is slated to go before the Phoenix City Council for final approval Jan. 25. If approved, the goal is to have the project completed in 2018. It could create 50-75 jobs.
Bannard, who has held marketing and event-planning jobs with the Downtown Phoenix Partnership and the Chamber of Commerce, credits the name of the project to Quinn Whissen of This Could be Phx.
Bannard's core partners in the project are Mark Howard, co-owner of FEZ and Bliss/ReBAR restaurants; and Bob Tam and Ross Simon, co-proprietors of Bitter & Twisted. They have also formed partnerships with a number of community organizations and businesses, including Changing Hands Bookstore and "entities in the media."
Bannard says plans call for the retail area to have a video wall, which could include interviews and features about the city and sightseeing to showcase options for conventioneers. "It's like your appetizer for Phoenix," she adds.
"It is taking the idea of a third space to a whole new level. It is about connecting community," she says, noting plans call for the space to be used for events, meetings, performances, and media announcements.
The project has garnered "dozens and dozens" of letters of support in the past couple of years that it has been under development. It also has a nine-member advisory board drawn from the community, including key stakeholders.
"This is not an ego-driven team," Bannard explains. "This is about putting our local talent out front, whether it's in food, art, culture, entrepreneurship, technology, or small businesses.
"We are steps away from the (Phoenix) Convention Center and across the street from the two main business hotels. What face do we want to put on Phoenix? What face do we want to put on Arizona? How do we redefine the headlines in the newspaper to tell our story?"
The PHX Commons website, which is still under development, invites more participation, asking visitors to "Join the Community" and play a role in its creation through roles as supporters, artists, investors, etc.
"This is literally to demonstrate how we can do things differently in a city-owned building … a public-private partnership opportunity to really demonstrate community at the ground floor base of our connectivity," she explains.
"We want to be a place where we're open and welcoming to all and where creative collisions can occur between all kinds of ideas, people, and concepts. We see ourselves as a hub or an ecosystem that we're looking to help support," she adds.
With all the focus groups, surveys, and community involvement in development of the project, Bannard is hopeful that it will be reflective of the history of the city and state and its rich diversity of cultures, backgrounds, and people.
---