PHX Commons, a $4 million proposal to transform a Downtown retail space vacant since 2012, has won unanimous Phoenix City Council approval.
"We had some great community members there (at the meeting) supporting us," explains Rhonda Bannard, managing partner of the project, attending an after party Jan. 25 with members of the council, the mayor and the community. "We're thrilled. I'm honored to be here celebrating with the community."
The agreement is for a 10-year contract for what is being described as a "21st century community gathering space" at the corner of Adams and First Streets, the former location of the Matador restaurant. It will include a restaurant with indoor and outdoor dining areas, coffee and grab-and-go food bar, a mixed-use area with a newsstand/bookstore, specialty pop-up retail, space featuring local Arizona products, and a technology living room for meetings and individual use.
Bannard says within the next several months they should know more about when the project can begin renovation of the site, but they hope to open sometime in 2018. The project is expected to create 50-75 full and part-time jobs.
Under terms with the city, PHX Commons will fund $2.5 million in improvements up front and the city will provide a tenant improvement allowance of $529,600 to be credited against rent over the first seven years of the lease term. This allowance funds improvements the city would otherwise have to install for building infrastructure, including electrical, plumbing and HVAC.
PHX Commons will pay a total of $716,840 in rent over the initial 10-year contract, city records state. It will also pay for all utilities and a share of the Enhanced Municipal Services District assessment, starting at $2,000 in year one, with 2 percent annual increases.
As a part of the deal, PHX Commons may purchase up to 20 monthly parking passes for the Regency Garage and up to 20 monthly parking passes for the East Garage at the prevailing monthly public parking rates.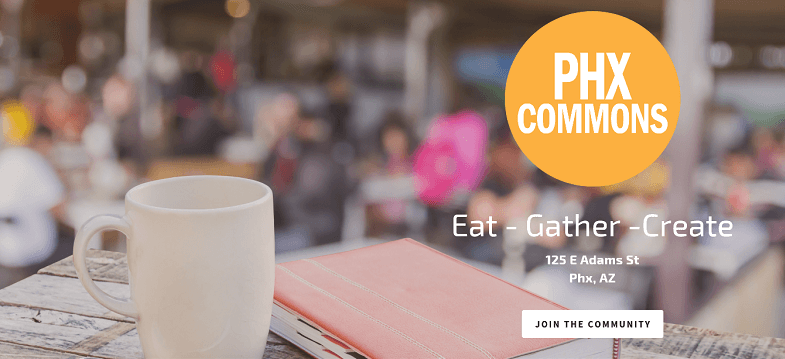 PHX Commons is the result of years of research, focus groups, meetings and feedback solicited from the Downtown community and includes a nine-member advisory board. The Downtown, Aviation, Economy and Innovation Subcommittee recommended City Council approval by a 4-0 vote at its meeting Jan. 4.
The retail spaces are located at 125 E. Adams St. (11,895 square feet with north and west patios) and 131 E. Adams St. (1,345 square feet).
The website for the project, which is still under development, asks site visitors to "Join the Community" and play a role in its creation (supporter, artist, investor, etc.).
Images courtesy of Rhonda Bannard.
---