DPJ's Wire series delivers news and information straight from the source without translation. 
No one has heard the music yet. There is no site streaming any of it to preview. The music is not only unreleased, it is not even written yet! The artists performing at the Phoenix Rock Lottery will begin writing their material just 10 hours before they have to play it on stage. In fact the musicians will wake up that day not even knowing who they will be in a band with that night! The only way to hear what is created that day will be to come and see it for yourself.
On January 28th, 25 of the best musicians in Phoenix will meet, and names will be drawn at random to create five brand new bands. Those bands will then have that day, and only that day, to write and rehearse a set to perform live in concert that night at Crescent Ballroom. Each band will have to write three original songs and choose one cover to perform.
The 4th Annual Rock Lottery will feature an entirely new group of musicians. No musicians from the previous three lotteries were included, although a number of performers come from bands previously represented in years past. The list of musicians selected this year includes members of some of Phoenix's most prominent bands: decker., Phoenix Afrobeat Orchestra, Black Bottom Lighters, Fairy Bones, Playboy Manbaby, as well as from some of the best new bands making a name for themselves today: Upsahl, El West, House Of Stairs, and Weslynn.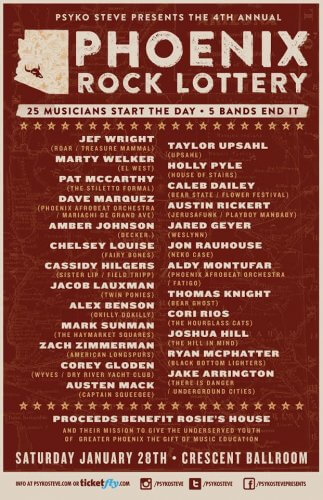 The past three lotteries have included a who's who of local music; including Jim, Zach, Rick, and Robin from Jimmy Eat World, Ben from AJJ, Jared from Jared and The Mill, Ian from Dear And The Headlights, Grace from Run Boy Run, Matthew from Vinyl Station, Matt and Emma from Black Carl, and Brennan from The Technicolors, to name just a few.
In just three shows, including two sell outs, the Phoenix Rock Lotteries have already had quite an impact on Phoenix's music scene and local community. The 1st Phoenix Rock Lottery, held at Crescent Ballroom on February 9th, 2014, was named "Best Club Show in Phoenix 2014" in the Phoenix New Times "Best Of Phoenix" issue, describing the event as "yielding goods that had Phoenix feeling pretty damn great about its music scene." The recent solo 7" series by Jimmy Eat World's Jim Adkins included the song "Love Don't Wait", originally written during that first lottery. In 2016, the band Wet Lab, formed in the 2nd Phoenix Rock Lottery, released formal recordings of two of the songs they wrote together on cassette via the new local label Saint Joseph. The single was prominently marketed nationally as part of this year's Cassette Store Day.
A video recap of the 2nd Rock Lottery can be seen here.
For the 4th year in a row, the proceeds of the Phoenix Rock Lottery will benefit Rosie's House.
"Funds raised by the Phoenix Rock Lottery provide music education training to youth from low-income backgrounds. Specifically, the funds underwrite our Beginning Guitar Class for 12 students providing free instruction, a loaned instrument, curriculum and performance opportunities," said CEO Becky Bell Ballard. "We are so thankful to local musicians, Pysko Steve and Crescent Ballroom. Thank you for paying it forward and supporting young people in their pursuit of learning to play a musical instrument."
Complete list of musicians performing in the 2017 Phoenix Rock Lottery:
Jef Wright (of Roar / Treasure Mammal)
Marty Welker (of El West)
Pat McCarthy (of The Stiletto Formal)
Ryan McPhatter (of Black Bottom Lighters)
Dave Marquez (of Phoenix Afrobeat Orchestra / Mariachi de Grand Ave)
Amber Johnson (of decker.)
Chelsey Louise (of Fairy Bones)
Cassidy Hilgers (of Sister Lip / Field Tripp)
Jacob Lauxman (of Twin Ponies)
Alex Benson (of Okilly Dokilly)
Mark Sunman (of The Haymarket Squares)
Caleb Dailey (of Bear State / Flower Festival)
Jake Arrington (of There Is Danger / Underground Cities)
Corey Gloden (of Wyves / Dry River Yacht Club)
Zach Zimmerman (of American Longspurs)
Taylor Upsahl (of Upsahl)
Holly Pyle (of House Of Stairs)
Austin Rickert (of Jerusafunk / Playboy Manbaby)
Jared Geyer (of Weslynn)
Jon Rauhouse (of Neko Case)
Aldy Montufar (of Phoenix Afrobeat Orchestra / Fatigo)
Thomas Knight (of Bear Ghost)
Cori Rios (of The Hourglass Cats)
Joshua Hill (of The Hill In Mind)
Austen Mack (of Captain Squeegee)
If You Go:
What: Fourth Annual Phoenix Rock Lottery
When: Saturday, January 28, 2017, Show at 8:30 p.m, 21 and over
Where: Crescent Ballroom, 308 N. 2nd Ave.
Tickets: $12 in advance and $15 day of show, available at PsykoSteve.com, CrescentPHX.com and Stinkweeds Records
More info here.
Images courtesy of Phoenix Rock Lottery.
---