Stephen Chilton, by phone, is explaining the logistics of the upcoming Rock Lottery, which happens this Saturday night at Crescent Ballroom.
"The show is in a week and the music doesn't exist yet," he says.
It's in less than a week now, actually. The music still doesn't exist. It won't exist until that night — hours, likely even minutes, before the bands hit the stage. It's the nature of the gig. It's what the musicians have signed up for. It's why the audience is going to pack the place.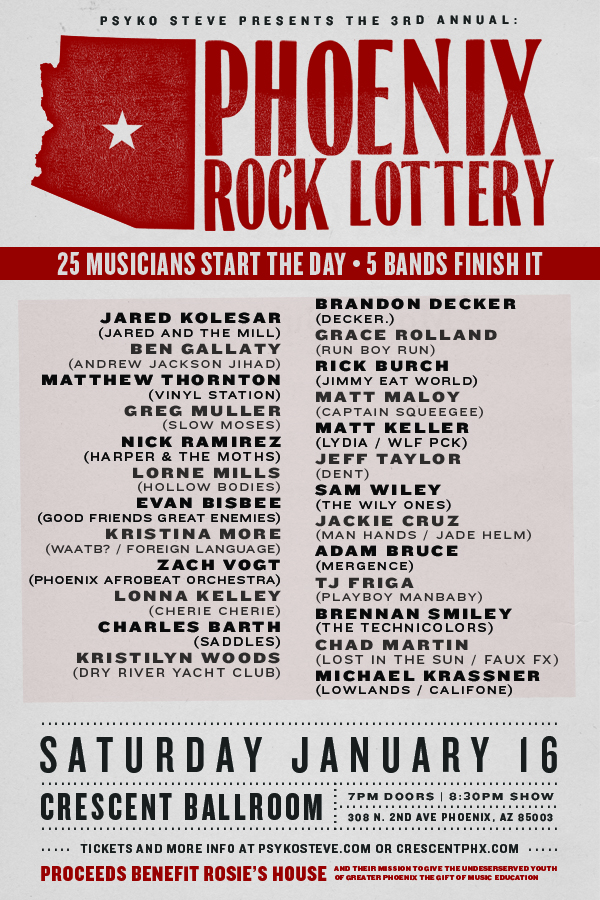 Rock Lottery is a self-contained event wherein a collection of musicians from Phoenix's best bands, who may or may not know each other, split into ad hoc groups, write three songs apiece, learn one cover song each, and then take the stage. All in one day and night.
Music promoter and Rebel Lounge owner Chilton, a.k.a. Psyko Steve, elaborates on how the crazy thing started. "Like most good ideas," he says, "I blatantly stole it from someone else."
The idea came from Tucson. He'd heard once that someone there was doing something similar, and immediately loved it, but then put the lockdown on any further information. "I deliberately didn't want to know anything more about how anyone else had done it," he says. This was so prior incarnations couldn't influence how he'd put together his own version.
To help him out, I've intentionally excluded any details about the rumored similar events that have occurred around the country. Certainly not the one in Tucson, lest a stray audience member go and leak it to him and ruin the purity of Rock Lottery.
Here's how it works.
"I've personally selected 25 different musicians who I thought would be great at this." These musicians, he explains, have varying experience levels, often are multi-instrumentalists, and in most cases, have songwriting chops. None of the five bands appearing that night will have suffered a lack of skill and talent. These people are well equipped to blow your faces off.
The morning of the event, without any preparation, all 25 musicians will meet Chilton at Crescent Ballroom. Five drummers will then draw names at random to determine their bandmates for the day (he does it this way so that every band has a drummer). Then the newly-formed bands will go off to whatever place they can hide away for the day and get to work.
It's quite the opportunity for the musicians to influence each other's tastes and styles, and to break out of their usual thing (Phoenix has top-notch players in a breadth of styles). "Do something that's outside of their comfort zones and then see what happens," says Chilton. Often, participants end up playing or acting or writing very differently than fans of their bands are accustomed to.
It's also a chance for them to meet in the first place. "I was really surprised the first year how few people in the room knew each other," says Chilton, explaining that many of them had played gigs together previously. But such is life when you don't have roadies. Amongst the setup and tear-down, your paths simply don't cross long enough to make introductions, let alone form friendships.
At previous events, none other than Jim Adkins, of Jimmy Eat World fame, was among the participants. Chilton says that afterward, Adkins went on to record a song he wrote during the first event, and release a 2-song cassette with the band from the second event. The band, called Wet Lab, played its second and potentially last show at Rebel Lounge last Friday night.
You can check out the complete list of musicians for this year's event here.
No matter who's playing, you'll want to get there. "I never see a crowd so attentive for music they've never heard," says Chilton. A Crescent Ballroom server once purportedly said, "These are all my favorite regulars." Which is to say, the crowd isn't filled with people discovering Crescent for the first time, but with people who love Phoenix's music scene. For fans, it's a way to hear something they've never heard before and likely never will again.
For Phoenix, it's just another example of our fine city's eccentricity and uniqueness in action.
Kickoff is this Saturday, January 16th, at 8:30pm (doors at 7pm).
Bonus: The show is a benefit for Rosie's House, a local music charity that supports music education for kids.
---