DPJ's Wire series delivers news and information straight from the source without translation.
"WELCOME BACK, DIANA!" BANNER UNVEILED ON CITY HALL
Taurasi to return to Phoenix Monday; first availability at Mercury Media Day
The three-time WNBA Champion Phoenix Mercury and City of Phoenix Mayor Greg Stanton today unveiled a giant banner on the side of City Hall in downtown Phoenix to welcome back Mercury legend Diana Taurasi for the 2016 WNBA season.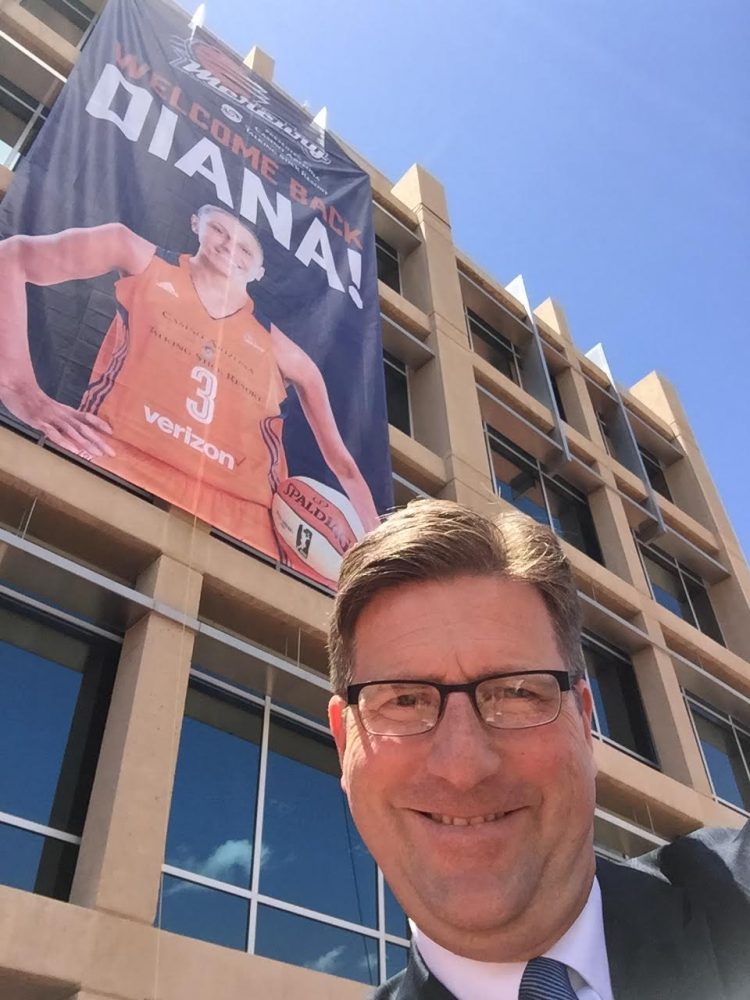 Fresh off EuroLeague and Russian League championships for UMMC Ekaterinburg, Taurasi will report to training camp Monday, May 9, and will be available to the media for the first time that day at 10 a.m. on the podium at Mercury Media Day.
The banner, which was the brainchild of Mayor Stanton and Mercury General Manager Jim Pitman, measures 40-feet high by 20-feet wide, and extends from the 16th floor balcony to the 11th on the east side of City Hall.  Visible from all over downtown Phoenix, it was hung in part by Mercury mascot Scorch, who repelled off the building with the assistance of Squeegee Squad, a local window-cleaning company.    
Coyotes star Shane Doan (1996 Phoenix debut) and Cardinals star Larry Fitzgerald (2004 NFL Draft) are the only active athletes with tenures as long or longer with Arizona teams than Taurasi, who was selected No. 1 overall by the Mercury in the 2004 WNBA Draft. Taurasi is a three-time WNBA Champion, two-time WNBA Finals MVP, 2009 WNBA MVP, seven-time WNBA All-Star, six-time EuroLeague Champion, and a three-time NCAA Champion at UCONN. Taurasi also owns three Olympic gold medals and last Wednesday was named to the USA Basketball Women's Team for the 2016 Summer Olympics in Rio. She did not play in the WNBA in 2015. 
Diana Taurasi and Penny Taylor return to join 2015 All-Star trio Brittney Griner, Candice Dupree and DeWanna Bonner as the Phoenix Mercury pursue a league-record tying fourth WNBA title in 2016.  Tickets for the Mercury home opener on Friday, May 20, and the other 16 regular-season Mercury home games can be purchased by calling 602.252.WNBA or by visiting PhoenixMercury.com. 
Photo courtesy of Mayor Greg Stanton.
Featured image courtesy of the Phoenix Mercury.
---