DPJ's Wire series delivers news and information straight from the source without translation.
Art D'Core Gala Takes Place in Margaret T. Hance Park Thursday, March 10, from 5-9 p.m. Gala to Benefit Artlink Phoenix.
The fourth annual Art D'Core Gala, called "A Night among the Stars," takes place Thursday, March 10, from 5 to 9 p.m. at Margaret T. Hance Park, under the Central Avenue Bridge (1134 N. Central Ave.) in Phoenix. The celebration spotlights the significant contribution of Phoenix's arts and culture in creating a dynamic urban core and is a benefit for Art Detour 28.  Highlights of Art D'Core include a special toast by Mayor Greg Stanton, and a presentation of updates to the Hance Park Master Plan, and performances by the Arizona School for the Arts, Heard Museum Phoenix Center for the Arts, The Nash, Fushico Daiko, and others.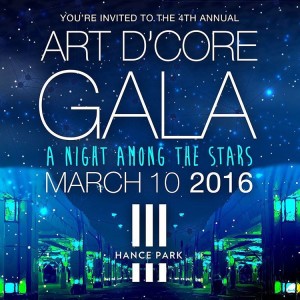 The Art D'Core Gala, which is free to the public, is hosted by Artlink, Inc. in partnership with the City of Phoenix Mayor's Office, the Office of Arts and Culture, The City of Phoenix Parks and Recreation Department, Downtown Phoenix Inc. and the Hance Park Conservancy.
Artlink launched this annual gala in celebration of its Silver Anniversary in 2012. This community event has been presented in the past two years at the Crescent Ballroom in partnership with the Phoenix Mayor's Office and Downtown Phoenix Inc. In response to the evolving downtown community and to further spotlight the impact of arts and culture on our natural and built environments, Artlink brings the festive affair to Margaret T. Hance Park.
To RSVP to the Art D'Core Gala please contact: ArtlinkPhoenix.com/gala.
For more information, please visit:artlinkphoenix.com/art-detour/gala.
---