The McDowell Music Festival returns to Hance Park this weekend for its fourth year in downtown Phoenix and its 13th year overall. We're always excited to have this three-day party, presented by Wespac Construction, back in the 'hood for all the great vibes, great people and of course, great music that comes along with it! Here are a few things we're especially stoked on for this weekend's festival:
Dance to the Music
The folks behind MMMF pride themselves on the eclectic mix of artists they put together each year and 2016 is no exception. With national artists like Beck, St. Lucia, Kid Cudi, Gary Clark, Jr., Porter Robinson, Bloc Party, and some of Arizona's best local artists, like The Haymarket Squares and Fairy Bones, it will be like a super hip "iPod on shuffle" sort of dance party.
"Our lineup is a reflection of the eclectic and varied music choices of our festival fans and attendees. Just like our artists, they don't like to be put in a box. They love what they love, because it's raw music – not because it plays on the radio," say festival founder and president of Wespac Construction, John Largay. Find the full three-day lineup here.
Give It Up for Giving Back
Along with music, charity is part of the DNA of the McDowell Mountain Music Fest, which is a 100% non-profit event. Since their first festival in 2004, the organization has raised over $1 million for local charities, with last year's event bringing in $120,000. All proceeds from this year's festival will benefit Phoenix Children's Hospital and UMOM New Day Centers.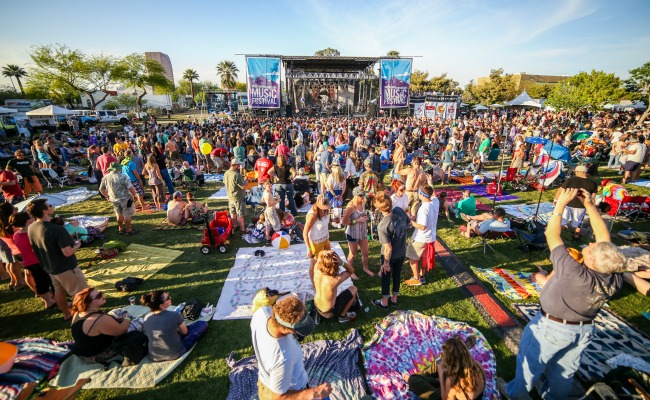 It's Easy Being Green
Or at least the MMMF makes it look easy! Sustainability is a priority at this event and their crew goes to great lengths to ensure minimal environmental impact. Some of their green initiatives include reusable beer cups, biodegradable and compostable mixed drink cups, limited use of paper-based materials, recycling and compost stations and filtered water stations where guests can fill their own reusable containers. At last year's festival, they produced 8.59 tons of recycling and .37 tons of compost.
Along with all of these things, you'll find local artists and muralists creating live art, a vendor marketplace and food demonstrations.  So if you head out to the McDowell Mountain Music Festival on this beautiful Phoenix weekend, you can bet you'll have a great time with great people and lots of great music.
Keep an eye on DPJ's Instagram and Twitter all weekend long as we capture all the festival fun and be sure to tag your own photos with #DPJmusic and #M3F.
If You Go
What: McDowell Mountain Music Festival
Where: Margaret T. Hance Park – 1202 N. 3rd Street, Phoenix
When:
Friday, March 11: doors 3 p.m./show 3:30 p.m.
Saturday, March 12: doors 12 p.m./show 12:45 p.m.
Sunday, March 13: doors 11:30 a.m./show 12 p.m.
Tickets: https://mmmf.frontgatetickets.com/
Photos provided by McDowell Mountain Music Festival
---